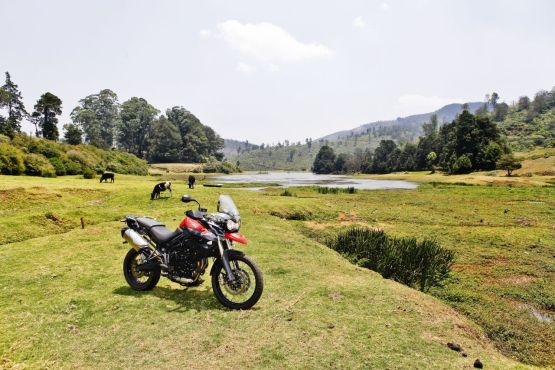 The Triumph Tiger 800XC was raring to leave the hills behind and hit the hot sun and sand along the vast west coast
Story: Jim Gorde
Photography: Sanjay Raikar
Hill-stations always have a welcoming atmosphere about them. Every day that you're there, the feeling that there's so much more to explore is always present. You just know that it's not just about only the scenery or the attractions or the local flavours, there's the experience of having seen it all which matters the most in the back of your mind. You ride to a spot, you hike the difference and you get to that breathtaking view you wanted from your mind's eye. Ooty (now Udhaghamandalam) delivers on all counts. The crisp, chilly, fresh air and the lush greenery provide every bit of motivation you need to set out and explore every major attraction of the place, and the lesser known but equally beautiful, if not even prettier sights. So, as we set off to commence the second leg of the travelogue, we were glad to be heading out from such a magnificent start line.
The roads out of Ooty are plenty. Our route, however, would take us through a mix of twists, turns and straights through some of the greenest belts in the region. We would head to Coorg (now Kodagu) through Madikeri before heading into the city of Mangalore. En route we would have the Nilgiri forest and Wayanad wildlife sanctuary. Quite something to look forward to as we began our descent from the cool surroundings of Ooty and headed into the forests towards Coorg.
The roads to and from Ooty are a mesmerising blend of tight corners and sweeping bends. The road going through the Nilgiris gives you a first-hand look of what an endangered forest looks like. Endless stretches of eucalyptus trees reaching for the sky fill your peripheral vision with the thin strip of road ahead acting as a guideline for your involuntary inputs to the handlebar. As we passed Pykara, the sharp hairpins coupled with good visibility of the upcoming corners were just thrilling on the bike.