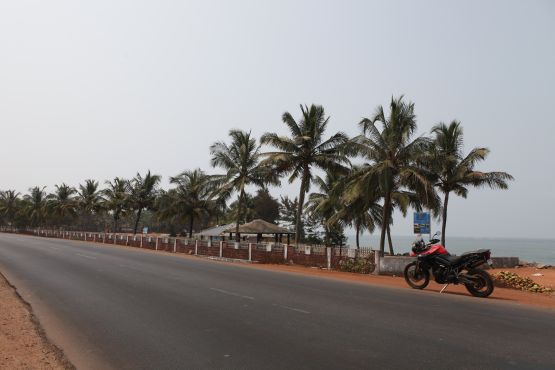 Goa was pleasantly warm when we arrived late in the afternoon. The sun was some time away for disappearing below the horizon, and what a horizon it was! We approached Fort Aguada on the edge of the shore before heading to the beach road. The fort itself offers many sights once you set about exploring the passages within. However, the lighthouse offers a truly breathtaking view of the shore line. The panorama begins with the vast ocean, moving to the waves crashing on the the beach, followed by the greenery and tree cover ending with a bird's eye view of the fort. Worth the effort climbing all the way up to the top of it.
The essential Candolim, Calangute and Baga stretch was paradise as always. Although it was rather crowded that time in the evening, the myriad of colours and sounds will have you captivated for a while. There is much to see and experience and we were going to do just that. The sounds of the crashing waves as a background score always add to the serenity. As evening came about, the lighting of the bustling beach side road got even more distracting. We checked into Molly Malone's, a nice place just a couple of minutes from Calangute Beach. For sport lovers, the Irish Pub, located in the same premises, provides a great means of relaxation. However, this was Goa, and we wanted to hit the sand.
The Calangute-Baga stretch can be done by road or, as we did, park and take the beach with the sand in your toes. But before that, we chose to grab a quick bite at the famed Infantaria, a must-visit for food-lovers. And, it's not just good seafood, it's great food overall. So, a steak, calamari and fish were on the table a few minutes later. Dessert, however great there, would not be done with yet. There came the walk down the beach under the starry sky, with the lights and the beat-laden music from their speakers filtering through the salty air as we made our way towards Britto's and their oh-so-delectable Alpine Chocolate Mousse. The buzz from the crowd, the sound of the sea and the light ambient music make for one of the most relaxing times you can have. Now, it was time to call it a night.