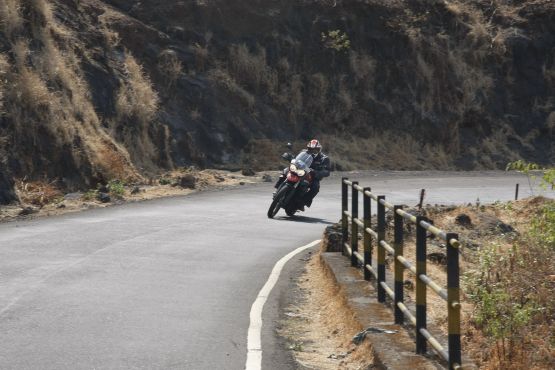 The Tiger 800XC was an absolute blast. Having experienced it before was a bonus, but never had I been able to enjoy so much of the ride experience without worrying about trivial things such as finding the right balance through a corner and getting the throttle right. Shoulder in, knee extended and a slight push on the handlebar and the Tiger just flowed into the corner at the precise angle I was hoping for. The grip from the Bridgestone Battlewings, although dual-purpose tyres, was nothing short of excellent and was extremely confidence-inspiring.
There are so many corners, and, at first, it takes a bit of commitment, but as you progress through one after the other, it sort of begins to happen naturally, and you find your flow with that of the bike working amazingly well together. All corners taken in third or fourth, with fifth finding its place too when taking on the rare straight. Speeds of 70 to 90 km/h through the corners with 50 km/h hairpins were what I managed with the Tiger, which sprinted from 70 to over 120 km/h whenever a straight presented itself. The drive from the motor is so linear and so usable, it allows the rider to make the best use of the powerband without worrying about over-revving or vibrations. Most of the 3,000-7,500 rev-band is vibe-free and is accompanied by a glorious soundtrack to top it all off. The howl from the engine as you accelerate out of a corner and pick up speed helps you focus while also bringing a smile to your face, allowing you to thoroughly enjoy every corner you take with every single turn you make.
In the midst of all of the action, there was the colossal natural canvas displaying the most vibrant colours, shapes and forms in pristine purity unlike what any 100-inch, billion-pixel television would ever offer you. The immense beauty of the place makes you realise that simply glancing to your left or right doesn't do it justice. Nature almost insists that you slow down, get to the side, park, get off the bike and walk over as far as possible to the nearest ledge and take a look at why she coaxed you to be exactly where you were standing right then.
Take one look and the scenery leaves you in awe. A sheer valley lies below with trees covering every foot of land as far as the eye can see. The air is fresh and human habitation seems, for a few seconds, like a myth. It's unbelievable how these forests have remained untouched, yet I was pleased deep inside that we have thickets such as these around our country in a world consumed by greed and inconsideration.