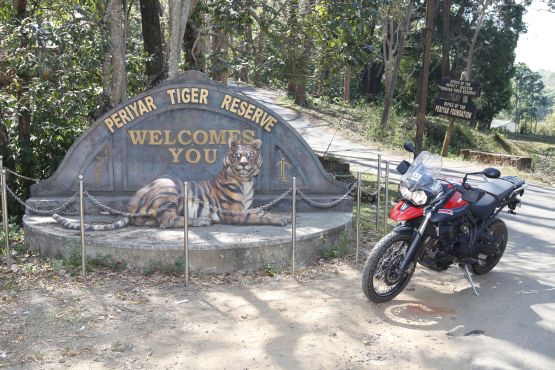 The Periyar Tiger Reserve is one of the oldest reserves in the country. When the River Periyar began being used for irrigation activities as early as 1899, over 600 sq km of forests were declared as reserve forests. That area has increased to 881 sq km today, and the number of activities undertaken by the authorities there includes everything from environmental awareness, research and monitoring to habitat management and eco-tourism. The Periyar Lake at the end of the stretch offers a view like few others and allows you to take in the natural beauty of it all in one long panoramic sweep. Unfortunately, the only moving tiger we spotted was the 800XC.
However, we had to get on, for Ooty was on the agenda for the end of the day, and there was a matter of vast tea gardens and deep glens to go through before we arrived at our destination for the day. Two hill stations in a single day? I was sure the Tiger was cool with that.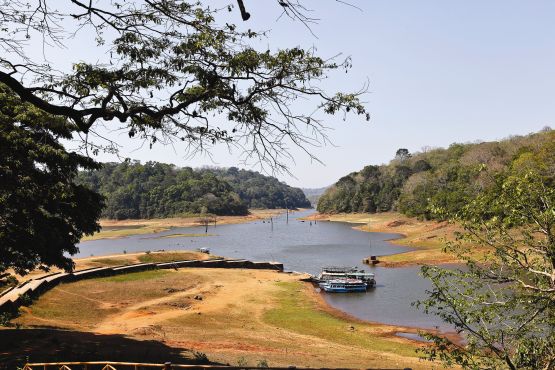 Heading out of Thekkady would be quite something. Mountain roads, narrow and challenging with pristine beauty on either side meant a balance between focusing on the ride and taking in the scenery one frame at a time. There are several hydro-electric projects en route and that meant green forestation with residential areas scattered all the way up until the start of the commercial tea estates. The rather sparsely populated town of Kattappana, on the way to Munnar, has some truly unique housing. With comparably inexpensive real estate, every private house was completely different in design with many adopting distinct designs for their gates. Living here would be quite something: dense green forests, the sound of the birds and the bees, the scent of nature and neighbours some distance away. However, the heat would bake anyone unfamiliar with the ways of the land, and for that reason, my thought bubbles burst and I pushed on. The Tiger was not bothered one bit and the coolant temperature was consistently around the halfway mark. This seemed to be business as usual for the 800XC, then.
We would soon be entering the tea plantations and I could smell the freshness and, I might have imagined this, the smell of tea permeating the air. Chinnakanal is first up, and what was dense dark green and browning forest up until then had turned into hues of brighter green. The shades of the landscape are thoroughly breathtaking, not literally, thankfully, because I couldn't help but stop and get my lungs full of the absolutely refreshing and crisp air. Look around and there are acres and acres of tea. A quick stop to take in the scenery and some stunning captures later, we headed deeper into tea-garden central.