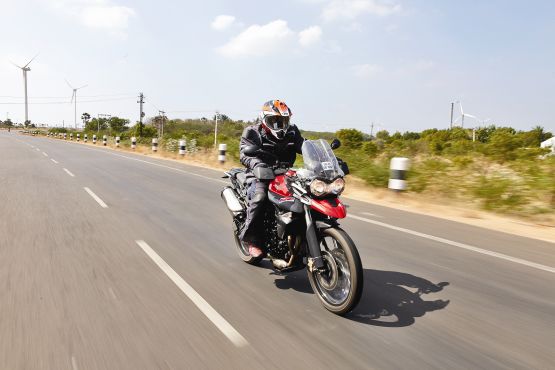 Thekkady was next on the itinerary, but the route was set at the most scenic. The stretch we would use would go past Nagercoil, Nedumangad and Punalur before passing through some of the most enchanting forested areas of Kerala. But first, breakfast. How can you not dig into the south Indian delicacies when in the motherland of the cuisine? Being a huge fan of everything made of udad dal, I couldn't help indulging before we set off. Heading out from Kanyakumari meant access to the open stretches of highway and that meant the Tiger could be set free.
The distinct whine from the 800-cc triple gets intoxicating after 5,000 revs and makes you want to push it. The sound which accompanies the picking up of engine speed gets adrenaline shooting into your veins just as quickly as the petrol being injected into the bike's heart. All of its 95 horses come alive and pick up the pace with no delay whatever. Look down at the console and its a heady 160 km/h before I have to slow down, not for traffic, but to take in the sights of the acres and acres of land liberally dotted about with windmills.
Tamil Nadu's wind energy programme seemed enviable, considering the fact that where we come from, seeing a windmill is like seeing a stationary helicopter made out of solid gold. And it's not just one part of the highway, they're all over the place. It's not difficult to figure out why. The area is windy, very windy! And the cross winds are strong – strong enough to blow you off course on a smaller bike – but the Tiger continued unperturbed. Only my neck muscles restricted my speed over the smooth tarmac to just over 100 km, but it was still incredible fun to ride the Tiger, its screaming motor adding a sonorous touch to the wind noise.
When we finally crossed the border into Kerala, the sun was hot and the roads were narrow. However, the greenery and winding roads do keep your eyes and mind busy while you're at it. The Thenmala Reserve Forest is blanketed with trees and we were enveloped in darkness the instant we entered its confines. The rough road was narrow to make matters even more difficult, but it was nothing the Tiger couldn't handle. As we approached the exit and moved to smoother tarmac, I was very pleased. Not that the bumps and potholes were troublesome; the Tiger's suspension is adept at dealing with these minor deterrents to speed and the ride was not too bad at all.