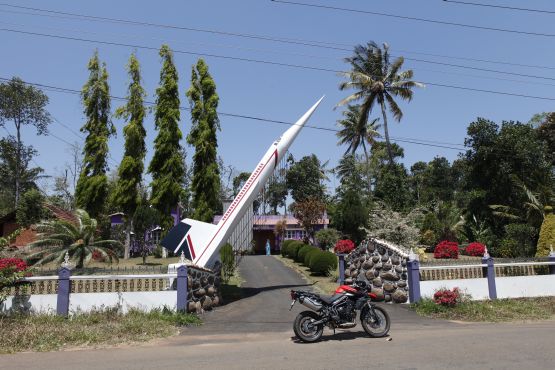 As we approached Punalur, the route barely had any traffic and the air was crisp with a hint of forest scent. The roads got even better as we closed in on Erumeli and suddenly we were greeted with an Armco barrier and smooth tarmac the likes of which we hadn't seen in a while. The white lines were bright and the yellow reflective markers were a welcome addition. The winding roads allowed for speeds far greater than what we had imagined and the flowing corners meant the Tiger could breathe easy and unwind.
Cornering at ton-up speeds was no biggie for the beast and the whole experience was further enhanced by the way the Tiger managed to simply go with the flow. You don't so much attack the corner as simply glide through it, lean angle increasing with each passing turn. The grip from the tyres, knobbly though those Bridgestone Battlewings may be, is good on tarmac and off it, and that adds to confidence when cornering or heading into no-road conditions.
As the evening gave way to night, the roads got tighter and twistier. Thekkady was still some distance away and so the best way to carry on would be to keep calm and twist the throttle whenever given the opportunity. The traffic wasn't as much a problem as visibility. Though the Tiger has a good pair of headlamps, the blind corners were what had the brakes working hard. Kumily, the boards said, was actually where we were headed. Thekkady, then, was the region, apparently.
Soon the darkness of beyond was interrupted by dotted lights and the city came into view. As we approached the main square which led to our halt for the night, the famed and uniquely designed Coffee Inn, just a couple of minutes away from the gates of the Periyar Tiger Reserve. We relaxed and set about our check-in procedures. I couldn't believe we were there already. After spending the day with the Tiger, I realised how comfortable a bike it was. The ergonomics are excellent and the saddle is a nice place to be in. There was no fatigue or any sort of pain and I could go on even further. However, it was going to be an early morning so after a quick pizza dinner, it was lights out.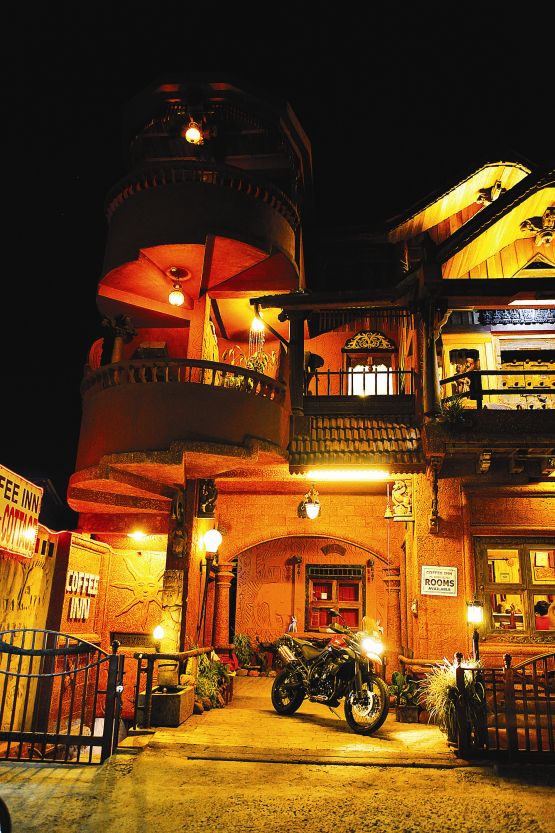 The Coffee Inn has rooms facing the street and some on the opposite side. We were in the ones on the opposite side, and the balconies overlooked the elephant sanctuary. Can you imagine? Waking up to lush greenery of all kinds with the strange sounds of new birds piercing the quiet morning air. The few huts of the locals had the sound of regional music emanating from them. We felt we could manage the miles ahead and so decided to give the Tiger a bath. After a quick breakfast at the Thekkady Café, we set off for Periyar.