H2 Tech
The basic 998-cc 16-valve powerplant is all new, not a revamped ZX-10R unit, despite the obvious similarities and identical dimensions of 76 x 55 mm. Supercharged engines like these generate a lot of heat and put a huge demand on parts such as bearings, so the H2 lump was designed to put up with up to twice as much stress as a conventionally aspirated engine. Pistons are cast, rather than forged, to cope better with very high temperatures, and have flat tops to reduce compression from the ZX-10R's 13:1 to below 9:1.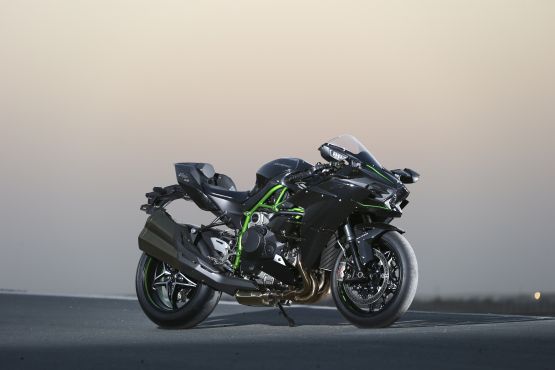 The all-important supercharger was designed specifically for this job at specialist divisions within the huge Kawasaki group of companies. It turns at 9.2 times the speed of the crankshaft, so at the H2R's maximum of 14,000 RPM it's spinning at roughly 130,000 RPM and cramming a lot of mixture into the engine's combustion chambers. It's located behind the cylinders, generates 2.4 times atmospheric pressure and feeds a rigid aluminium air-box.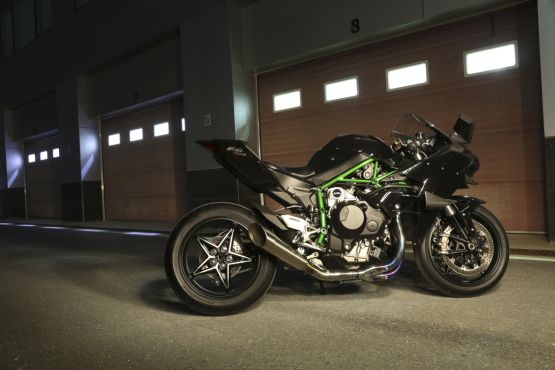 To withstand the extreme heat of the supercharged combustion the exhaust valves are made from two materials, Inconel and steel, that are friction-welded together at their centres. The two engines are very similar, the only differences being the camshafts, head gaskets and clutch. But their outputs are very different: the standard H2 makes 200 PS at 11,000 RPM, or 210 PS with ram-air; the H2R puts out a staggering 326 PS when ram-air is taken into account. Kawasaki insist that the H2 can't be converted to H2R specification, though that might not prevent people from trying.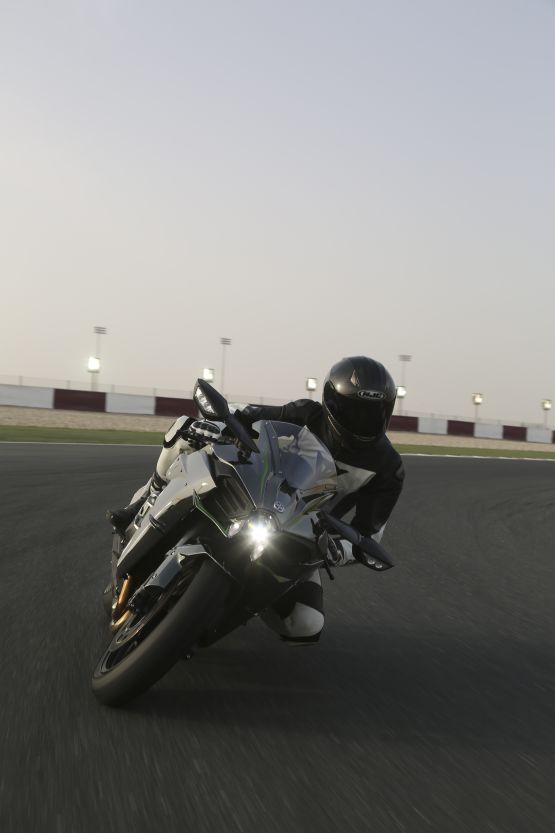 The chassis is unlike anything that Kawasaki have built before, especially for a four-cylinder engine. The steel tubes are of differing dimensions, laser-cut to ensure accuracy, partially hand-welded and finished in metal-flake Kawasaki green. The firm says this frame design was chosen, instead of the familiar aluminium beam layout, because it allows a little flex, which improves stability at very high speed. The layout also allows engine heat to escape and gives room for the H2's single air duct from the fairing nose, and the H2R's similar carbon-fibre duct on each side.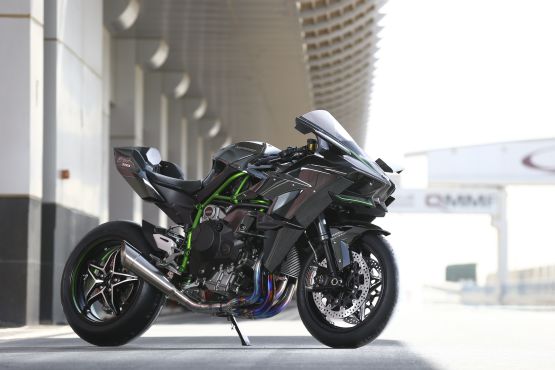 The rear sub-frame is aluminium, as is the single-sided swing-arm, chosen to allow room on the right side for the exhaust's silencer — which in the case of the standard H2 is a large and ugly device that some importers are replacing with a more attractive and doubtless more tuneful Akrapovic can. (The H2R has a race-pipe that will require quietening even for track-days!)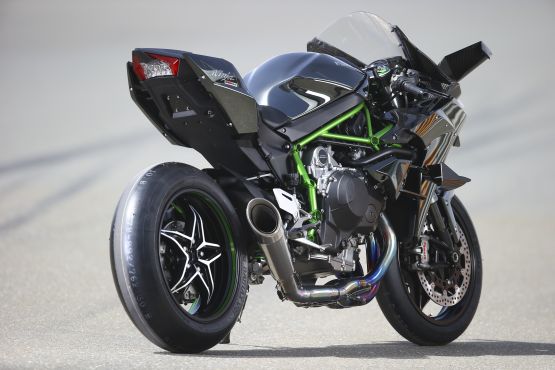 Inevitably, the Ninja H2 is heavier than a conventional superbike, with a kerb weight of 238 kg (to the H2R's 216 kg), but it gives away nothing at all in trickiness. There's no skimping on the cycle parts, which are shared by both models. Suspension is by KYB, including 43-mm forks with Air-Oil separate cartridges, developed in motocross. Brakes are a blend of 330-mm discs and Brembo radial callipers, with a revised version of the ZX-10R's race ABS.