'It's a thrilling, violent experience from a production bike whose like has not been seen before'. That's our first impression as we ride the Kawasaki Ninja H2 and H2R on the Losail Circuit in Qatar
Story: Roland Brown
Photography: Double Red & Ula Serra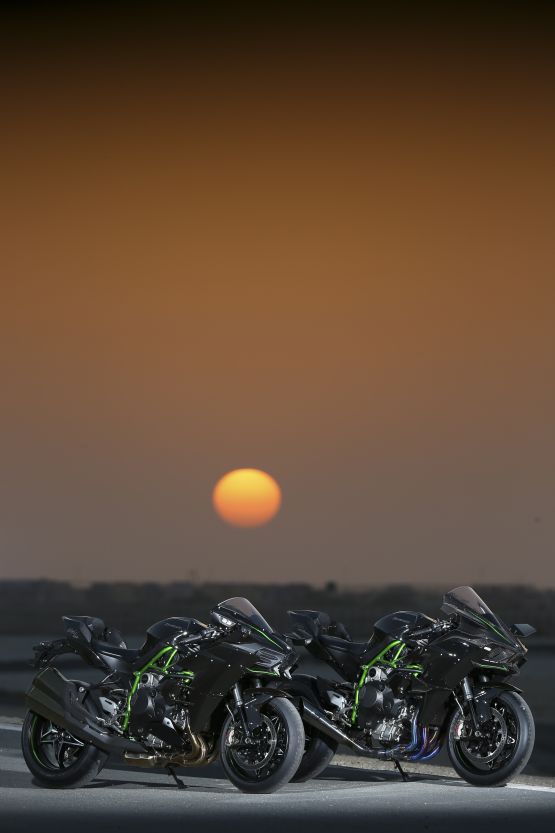 Nobody could claim they hadn't been warned about the Ninja H2 and H2R. There were all those trailer videos last year, followed by huge coverage when the supercharged fours were displayed at the shows, with talk of massive power outputs. Then Kawasaki had said that the original estimates were too low, and that the street-legal H2 actually makes more than 200 PS with ram-air, far exceeded by the track-only H2R's unprecedented output of well over 300 PS.
But even after all that hype and expectation, it's still quite shocking to wind back the Ninja H2R's throttle out of the Losail Circuit's final turn and on to the pit straight. There's a maniacal shriek as the bars go light in the third gear, then the sound rises and falls rapidly as I tuck behind the screen, hold on tight and tap the quick-shifter three more times in quick succession. This incredible bike keeps on pulling hard deep into top before, with the first turn rapidly approaching, I have to sit up and squeeze the front brake lever and brace myself against the braking force and sudden rush of wind on my head and shoulders. It's a thrilling, violent experience from a production bike whose like has not been seen before.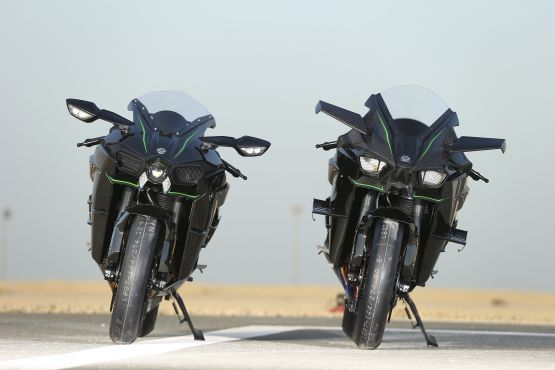 Back in the pits, a mechanic presses a button on the dashboard to reveal that the H2R recorded a maximum of 319 km/h. A couple of braver or smaller journos went even faster, over 200 mph (322 km/h). (With taller gearing, Kawasaki's test-rider has clocked over 357 km/h on a Japanese speed-bowl.) And the standard Ninja H2 had been seriously rapid on the straight in the previous session, revving high in top gear to get close to its electronically limited maximum of 300 km/h.
If you're looking for speed and excitement, you've come to the right place with the Ninjas. Kawasaki have long prided themselves as a brand that delivers high performance, dating right back to the original H2 two-stroke triple of 1972. And it's absolutely no coincidence that the firm revived the H2 name for this pair of supercharged bikes that are the most outrageous and hardest-accelerating yet from a major manufacturer.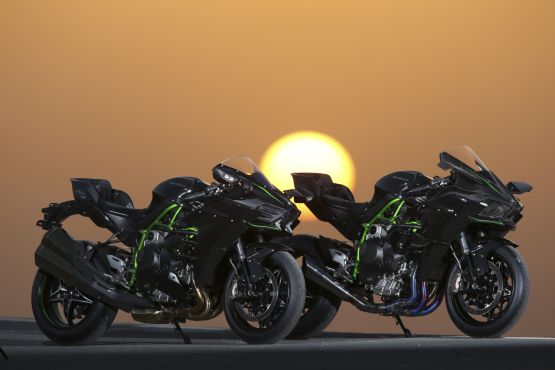 That first H2, also known as the Mach IV, earned a reputation as the world's quickest street bike, and also as a wild machine that spat off plenty of riders. It was the basis of the even more fearsome H2R factory triple that won races, ridden by stars including Paul Smart and Yvon DuHamel, but earned the nickname "Green Meanie" with some vicious behaviour at speed.