That was the spirit that forged Kawasaki's reputation, and which the firm wanted to re-create with the modern Ninja H2 and H2R. They certainly made a good start with the styling, which is stunning — combining an array of dramatic, distinctive shapes with a quality of finish rarely seen on a production bike. The H2R is unique in that its carbon-fibre half-fairing is equipped with pairs of aerodynamic fins on either side, shaped to provide downforce at high speed.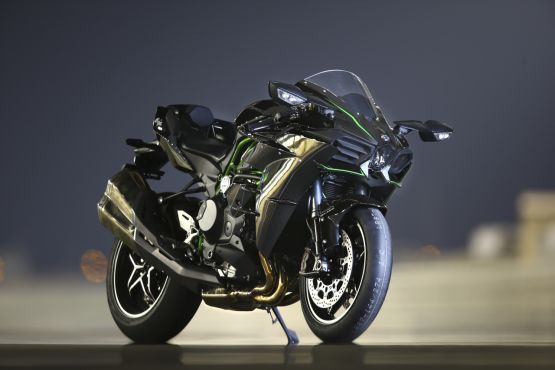 The H2 doesn't have those but its mirrors were carefully shaped by the Aerospace division. And the standard model's plastic bodywork shares a literally brilliant finish from mirror-like paintwork that contains genuine silver, is applied by hand and is unique in the automotive industry. The road-going Ninja also shares a host of other neat details, from its LED lights and neatly machined top yoke to the sculpted tail-piece.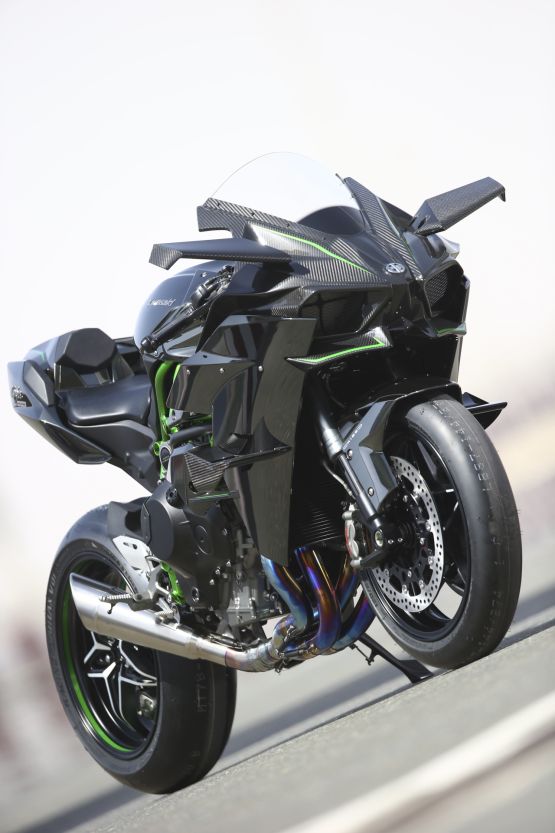 Of course, the powerplant, almost all of which is common to both models, is special too: a 998-cc, 16-valve four like that of the ZX-10R, but an all-new design created to be boosted by a supercharger, which was also purpose-designed and produced in-house by Kawasaki. It's the firm's proud boast that the Ninjas were created to showcase the giant corporation's numerous divisions, including Aerospace, and that no other firm could have built them — and it's hard to argue with that.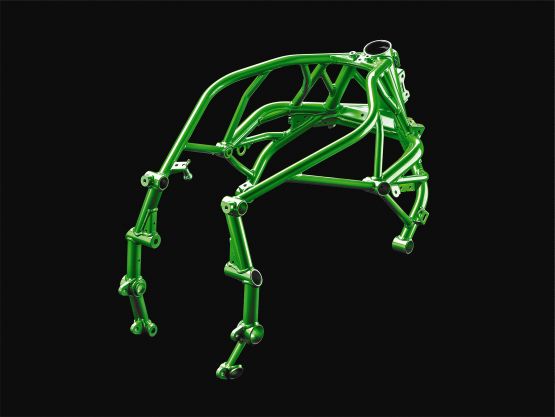 Even the chassis is like nothing Kawasaki have ever built before, based on a tubular steel trellis frame that would be Ducati-like if it weren't painted metal-flake green instead of red, and didn't employ a four-cylinder engine as a stress-bearing member to locate the single-sided aluminium swing-arm. Both bikes have KYB suspension at front and rear, with the 43-mm forks' adjusters set into the green tops that poke through the immaculately machined top yoke.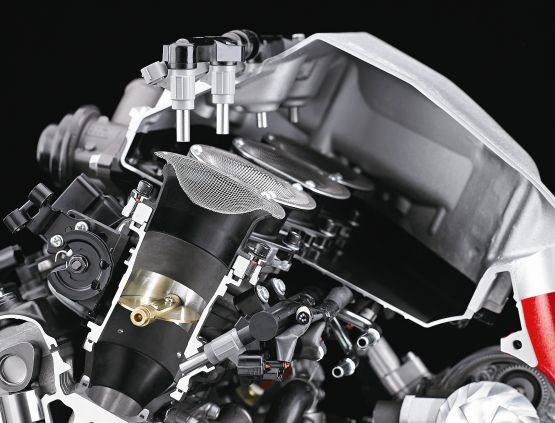 The standard H2's maximum output of 200 PS at 11,000 revolutions per minute (without ram-air) puts it on a par with the latest crop of super-sports bikes, but its torque output before that point far exceeds that of conventional engines, and the Ninjas aren't intended to be sports bikes. Their riding position is more relaxed than the ZX-10R's, with handlebars 10 millimetres higher and wider, footrests further forward by a similar amount, and a more roomy and generously padded seat, which has 15 mm of forward/back adjustability and is shaped to give support under hard acceleration.