The Fastace suspension was also mediocre. I didn't mind the Taiwanese firm's slim forks, although their feel was slightly crude. Even the shock worked well enough on smooth surfaces. But when we reached some bumpy roads, the lightweight rear unit couldn't cope and dished out a harsh ride through the reasonably well-padded dual-seat. Perhaps, it's too much to ask that this cutting-edge electric bike should have high-tech semi-active suspension to match, but it really could do with an upgrade.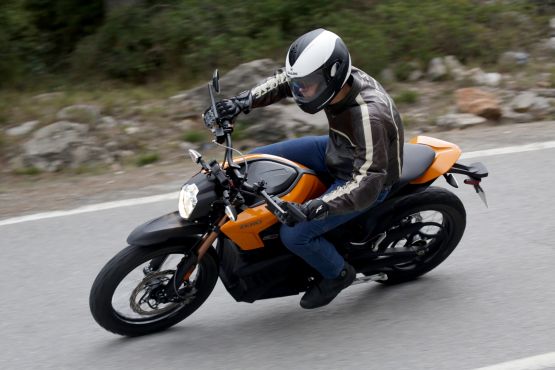 Braking was also slightly disappointing, as the single wavy front disc and twin-piston Nissin calliper couldn't provide the bite of a good twin-disc system and the small rear disc wasn't much help. At least the modest power made the lack of ABS less critical. And the Zero did slow respectably hard provided it was given a healthy squeeze of the lever. Braking also triggers a regenerative system that puts juice back into the battery.
Those whinges didn't prevent me thoroughly enjoying riding the S-bike on the twisty Spanish roads. It steered really well, tipping effortlessly into turns, always going exactly where it was aimed and staying impressively stable — at least on the smooth bits — as that free-spinning motor sent it whistling off again at a very entertaining rate.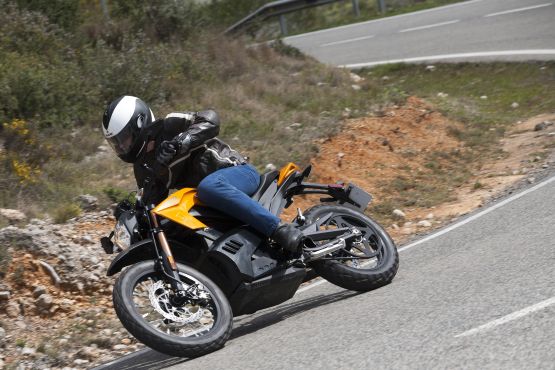 The Zero certainly handled well enough to encourage me to give it some hard use, partly in an attempt to test the range to the full. By the end of the day's ride I'd swapped bikes so often that it was hard to keep track, but one French chap had stayed on the same S-bike. After 121 km its digital 'fuel gauge' was flashing empty, but he'd made it back (just as Zero's clever smartphone app, which connects to your bike via Bluetooth and allows you to monitor and even adjust its performance, had predicted he would). That's not actually a huge improvement on last year's S-model, which managed 114 km with a bit to spare, but we were riding much faster this time.