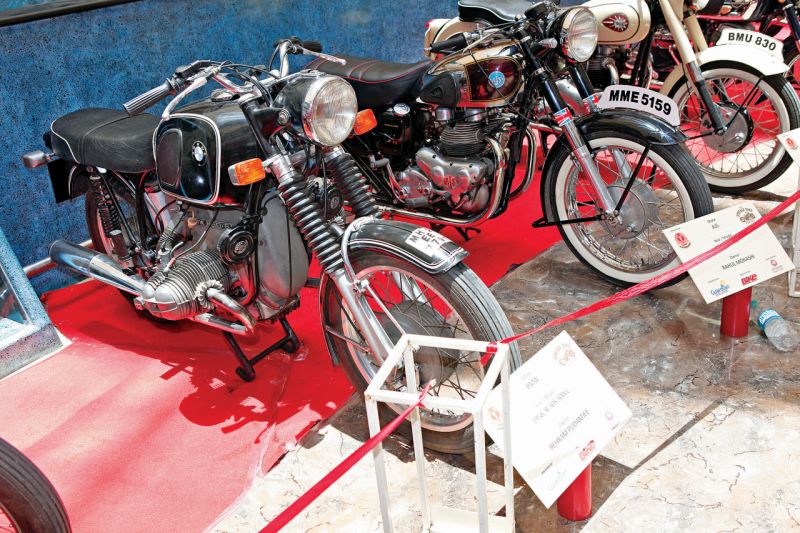 Donning the patina of over eight decades was Suhas Ahir's puny 90-cc Moto Guzzi from 1934. Produced in the same year was Siddharth Darade's 350-cc Royal Enfield (RE) J 32 — complete with panniers and girder forks. If you were fooled into believing that Royal Enfield have only had the 350-cc and 500-cc engines, Siddhesh Mitkar's twin-cylinder 700-cc RE Super Meteor would have you stunned as well. In fact, the Meteor was used as a test mule by the Transport Research Laboratory, UK, for the earliest experiments on motorcycle ABS. One of the rarest motorcycles on display was the 500-cc Velocette Venom, which, in addition to being absolutely stunning, was the first motorcycle to average over 100 mph (161 km/h) for 24 hours in 1961 — a record held until 2008.
Triumph are one of the oldest motorcycle manufacturers in the world and any vintage exhibition would be incomplete without one. We are glad Sachin Oswal also thought so. And so he got along his 1936 Military Triumph which has been with the Oswal family for over 18 years and has participated in several rallies across the country. He also got a 1947 Triumph Tiger T100 which featured a unique sprung-up suspension which is mounted in the rear hub itself. Vikram Pendse's 1947 Red Hunter from Ariel, a brand known for its distinct reliability and build quality, was also displayed at the event. Another brand lost in the history of the motorcycle industry is the Matchless. Produced between 1946 and 1966, the G 80 used what was then called 'teledraulic' forks at the front and also was one of the earliest motorcycles to employ the swing-arm suspension at the rear. One of these machines was revived by Gautam Bora for the exhibition.
After his first visit to the Isle of Man TT in 1954, Soichiro Honda invested his efforts in developing 125-cc and 250-cc four-stroke motorcycles. By 1961, Mike Hailwood won the TT in both the classes. Not only did Honda secure the first position, but finished first through fifth positions in each class. The technology eventually trickled down to production motorcycles like Jaideep Ganore's 1982 125T, which is a twin-cylinder 125-cc. Another bike Jaideep got along was the Triumph Speed Twin which once belonged to the Nawab of Hyderabad and exchanged several hands before reaching him. From the more familiar Yezdi-Jawa stable was Baban Dixit's 125-cc twin-cylinder Jawa produced in 1955.