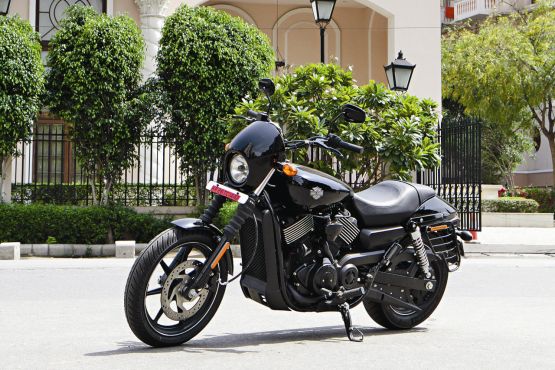 The latest offering from Harley-Davidson, Street 750, is also their smallest yet in recent times. We got astride one on the streets to see what this new bike on the block can do for the American motorcycle brand
Story: Aninda Sardar
Photography: Rommel Albuquerque
This is not the first time that the US of A has turned its attention to South Asia. For once, however, such attention will not be accompanied by apprehension and tension or controversy. All it has done so far is bring a smile to the face of those who have come under the gaze of the people from Uncle Sam's own country. More specifically, from the residents of distant Milwaukee. Indeed, you guessed it right, we are talking about the iconic American motorcycle brand Harley-Davidson and their latest creation, the new Street 750. But before we get into what the bike is all about, it's important to understand why a brand like Harley-Davidson, known for its humongous cruisers and touring bikes, would suddenly start conceiving a street-friendly (relatively) bike in the first place.
There are certain phenomena that manufacturers round the world have been waking up to over the past few years. Among them is the knowledge that South Asia, which includes India, are rapidly waking economic giants. As a matter of fact, South Asia is one of the most populous parts of our planet, which means the existence of a potential market full of consumers. Add to that the fact that a lot of this population is young with growing expendable incomes and exponentially expanding aspirations and the transition from consumer to customer is an easy one to foresee. Naturally, this once ignored part of the planet has now emerged as one of the focal points of the global auto industry. Given the economics at work here, even a brand like Harley that has seldom chosen to walk the beaten path has not been able to ignore the trend.
Unfortunately for Harley, even the tallest of giants from this part of the world would only qualify for a size 'Medium' at best in good ol' Milwaukee. Not to mention issues such as gas (petrol) prices, which are higher, lack of straight wide stretches of well-finished tarmac that go from horizon to horizon. No. In this part of the world, riders are of more conservative dimensions and have to battle winding narrow roads (more like lanes and by-lanes), crazy traffic and spiralling petrol prices. A good bike for such conditions that would appeal to the rising star called the South Asian consumer, therefore, would need to be light and easy to manage (relatively), decently fuel-efficient and yet not compromise on aspirations and aesthetics. Harley's answer to this challenge came in the form of the 750-cc motorcycle aptly named the 'Street'. Now, overseas the Street is also available in an even lower capacity of 500cc, but the bike that the company decided to bring to India was the Street 750.