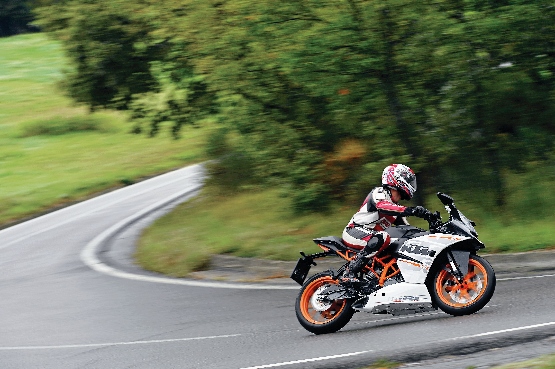 The newly launched KTM RC 390 is the sport bike that India needs. That is how the KTM management described things at the launch. Fortunately, we can tell you if it's true or not, for we were one of the three Indian publications to be invited to Modena in Italy to ride the motorcycle
Story: Aninda Sardar
Photography: KTM
No matter how many rides one attends, the idea of getting astride a new motorcycle on new stretches of tarmac to discover somehow never loses its appeal. Throw in an afternoon session on the twisty and technical circuit called Autodromo di Modena and it's not difficult to visualise tongues hanging out in excited anticipation. That was pretty much the itinerary that we were handed out when we reached our hotel in Modena (yes, the very same town that gave us Ferrari and Maserati). The bike in question was the then to be launched KTM RC 390. By the time we actually sat down to write the report, the bike had already been launched in India at an astoundingly attractive Rs 2,05,000 (ex-showroom, Delhi), but more of that later.
Prior to the ride, as is customary on such occasions, there was the usual technical (yes, right, technical and not marketing) presentation where the RC 390 was described as a flagship product and a supersport motorcycle. You heard right. This is not being positioned as a sporty version of the Duke 390 that we've become familiar with.
Well, it certainly looks the part if you consider the tucked-in, feet-back, weight-on-the-wrists riding position. Indeed, this is certainly more extreme than the straighter up Duke for the footrests are further back and the seat height, at 820 millimetres, is a full 20 mm higher. The seat is tiny and not at all conducive to adjustments that will aid comfort. Yet, somehow, KTM have worked their magic to not make it feel cramped. In all this, you might actually miss the pillion seat and mistake the RC for a single-seater, so well integrated is the pillion seat and the under-seat grab-rail (which, by the way, functions quite well). The only dampener, perhaps, is the fairing, for the screen feels a tad short and does just about an adequate job of keeping the wind-blast out. That, too, if you're at a proper tuck. Switchgear and similar unnecessary necessities are all well-placed and are easy to reach and operate on the go. Instrumentation consists of a single all-digital unit (it's actually shared with the Duke series) that has no fewer than 37 different information readouts. Frankly, a little over the top, we think, but can be handy if you're the sort of guy who wants several kinds of data at your fingertips.