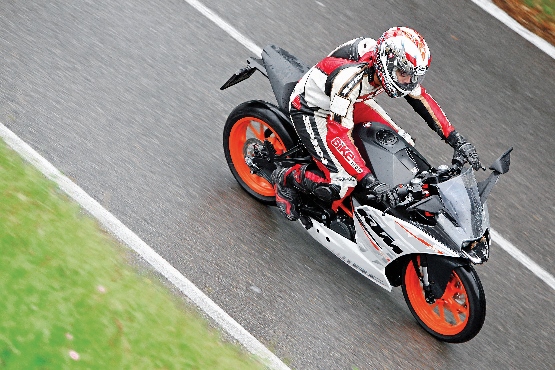 Thumb the starter, and there's that familiar Duke-ish lawn-mower like clatter from the fuel-injected 375-cc single-cylinder, liquid-cooled engine with DOHC, which hangs from the KTM orange steel trellis frame and is a stressed member as well. And, yes, before you ask, the powertrain is shared between the two bikes and the outputs are identical too at 44 PS at 9,500 RPM and 35 Nm at 7,250 RPM (in India those figures would be 43.5 PS at 9,000 RPM and 35 Nm at 7,000 RPM). Transmission is, of course, via a slick-shifting six-speed 'box. Again the same kit as the now familiar Duke 390.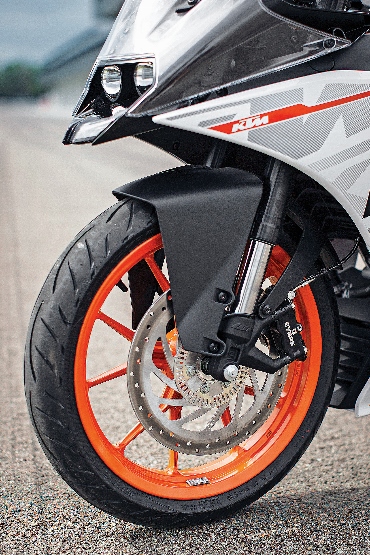 But this is not the Duke. Not remotely so. Where the work has actually happened is (apart from the very visually apparent styling and ergonomics) in the chassis. The front suspension geometry is sharper than the Duke's with a rake that's steeper by 1.5 degrees to a sharp 23.5 degrees while the trail has been shortened by six millimetres to 80 mm. The RC's wheelbase at 1,340 mm is also shorter than the Duke's by 27 mm. Consequently, according to KTM, with a 75-kilo rider on board the weight distribution at 49:51 for front:rear is as neutral as it can possibly get. Of course, the bike's sporty ergonomics and riding position contribute to that weight distribution as well.
Beyond the figures, the RC felt brilliant on the smooth and twisty rain-kissed asphalt around the iconic town of Modena. At city speeds the torque does its job in keeping things calm and collected and then you can twist open the throttle once you get to the clearer stretches to get your dose of adrenaline. The bike picks up cleanly right from the start, but once you've crossed 5,000 revs, it pulls noticeably harder, which, I am happy to say, adds a correspondingly wider grin to your face. The other noticeable bit about the RC 390 is the refinement level. Given that this is a fairly large single-cylinder engine, there is only a slight buzz that you get on the handlebars when you're really giving it the stick. And in no way does this lack of vibrations detract from the overall character of the bike. Wish some of our Indian manufacturers would also learn to do this.