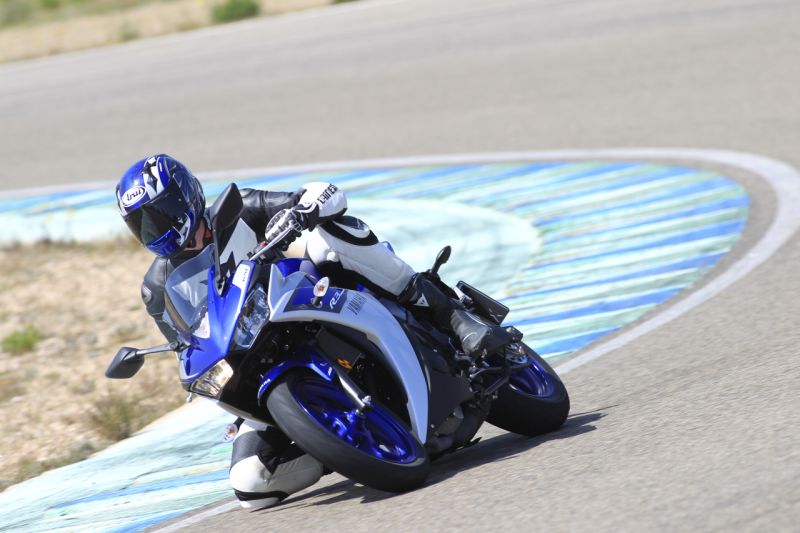 The Yamaha was certainly great fun to ride at Calafat, and would make an excellent introduction to track-days for a relatively inexperienced rider. On the other hand, it should also make a respectably practical and inexpensive all-rounder, which will doubtless be equally important to the majority of its mostly youthful owners. Fuel consumption averaged 6.1 litres/100 km with constant thrashing but could doubtless be improved to 5.0 litres/100 km or better with more restrained use, giving a range of 250 km from the 14-litre tank.
Other details are mostly good, notably the stylish instrument panel, which combines the analogue tacho with a digital speedo and includes an adjustable shift light, plus gear indicator, fuel-gauge and consumption reading, though the info can't be toggled from the bars and the indicators don't self-cancel. The mirrors are reasonably wide, and by sports bike standards there's even a half generous pillion seat, though only a strap to hold, and not much to strap luggage to.
Even so, it's all enough to make the YZF-R3 a very classy and respectably rider-friendly all-rounder, as well as a sharply styled, enjoyably quick and sweet-handling machine on which to attack the local back roads. Like most recent Yamahas it's competitively priced, too: more expensive than Honda's much less powerful CBR300R but cheaper (in most markets) than the CBR500R, the RC390 and even Kawasaki's Ninja 300. Accessories range from a screen and LED indicators to an Akrapovic slip-on can and even a full, non-street-legal system from the same firm.
So the comeback that Yamaha started with the naked MT models has been continued with super-sports bikes: firstly the R1 and now the YZF-R3, which in its own way is almost as impressive. As a go-anywhere sports bike for A2 licence-holders or anyone else who wants race-bred style and lively performance at a very modest price, the R3 has certainly got plenty going for it.