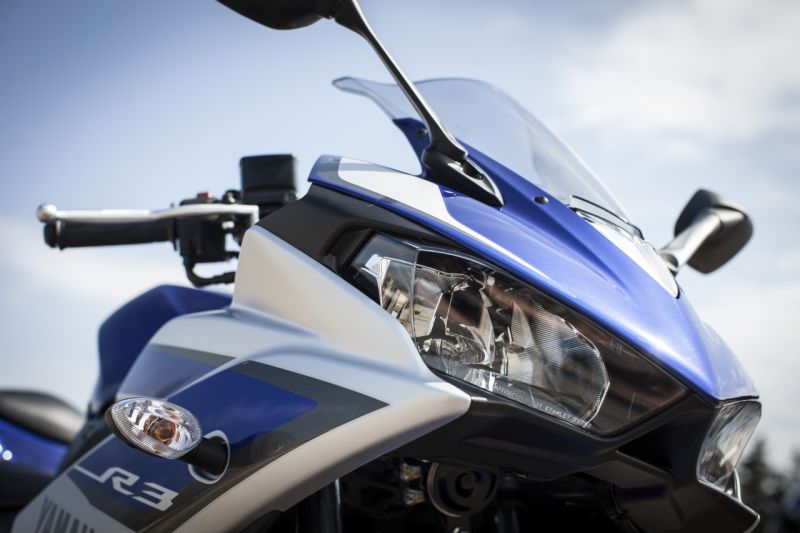 Despite that the Yam felt comfortable and controllable as its engine fired up with a gentle growl from the stubby silencer, and I headed off through the town of Reus. Despite that potential for high revs the engine was very rider-friendly, pulling away effortlessly as I released the light-action clutch, responding to the throttle in a very smooth and controllable way, and picking up speed without the hint of a power step as I short-shifted through the light six-speed gearbox.
The Yamaha's light weight (at 169 kg with a full tank it's a few kilos heavier than the RC390, but 20 kg lighter than the R6) also helped make it very easy to ride. So did the generous steering lock, though being tall I found the bars hitting my knees in tight low-speed manoeuvres. Overall, though, it was fine in town — and it certainly came to life as we headed west and the road opened up.
Mind you, the R3 only works properly if you use it right. As we passed the de-restricted sign the lead rider cracked his throttle open, so I did the same… But unlike him I hadn't bothered to shift down a couple of cogs, so within a few seconds he was about 200 metres ahead and still pulling away. I didn't make that mistake again, and from that moment it was game on for an entertainingly rev-happy thrash.
The Yamaha played its part admirably, the 180º twin-pot motor staying impressively smooth thanks to its single balancer shaft, and the bike remaining impeccably stable on the few longer straights as its speedo clicked round to 170 km/h, or slightly higher for the smaller and more aerodynamic riders. I even had enough wind protection to suggest that a moderately long motorway trip would be well within the R3's capability.