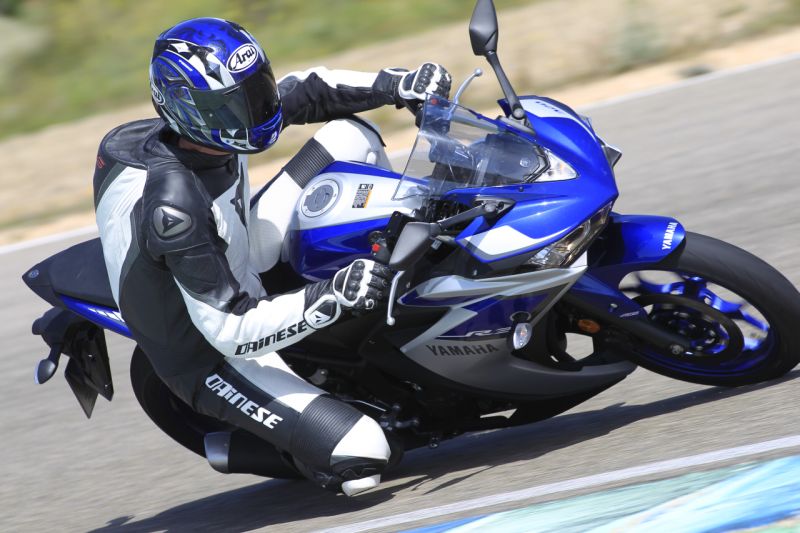 Naturally, the bike was even more fun when we reached the stunningly twisty and smooth-surfaced TP-7402 that carved through the hills towards that coffee stop at Porrera. The lead rider wasn't hanging about — we had to scratch pretty hard to keep up — and the Yamaha certainly didn't let us down. For such a relatively small and simple bike it impressed me with its steering, stopping power and even the grip of its narrow Michelin Pilot Street tyres, all of which seemed very well matched to the bike.
The Yam even excelled after lunch, when the roadside Armco was replaced by the gravel traps and blue-and-white kerbs of the Calafat circuit, and once again the little bike rose to the occasion. In the heat of track action the non-adjustable forks felt slightly vague, the rear shock was occasionally a bit bouncy under my larger-than-average body, and the excellent ABS system cut in quite heavily at one or two bends. But even serious track abuse didn't show up any real failings.
One rider thought the front brake could use a little more power, and he's probably right if you use only two fingers on the lever. But I thought the R3 had distinctly sharper stopping than its closest rival, KTM's excellent RC390, and probably had slightly firmer, better controlled suspension too. That was partly because the R3's rear suspension gives 125 mm of wheel travel against the RC's 150 mm, but despite that I didn't find its ride harsh.