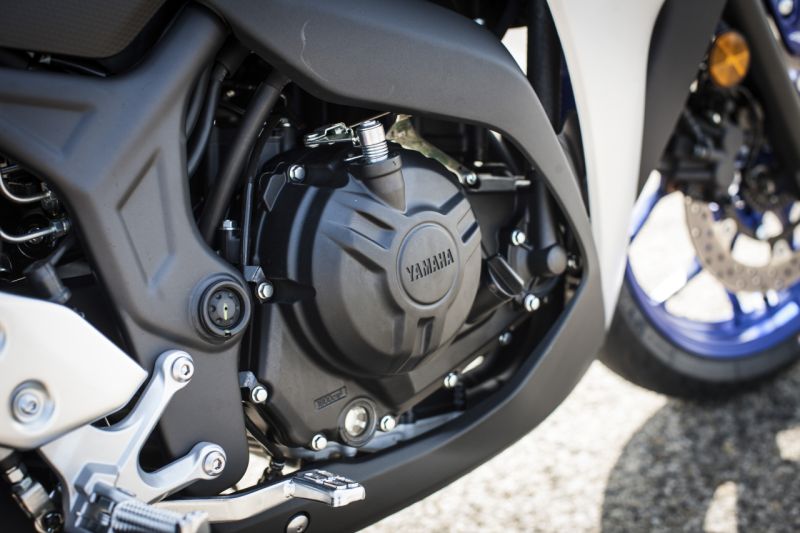 The R3 fits the format on all counts. Its 321-cc parallel-twin engine's maximum output of 42 PS is just below the A2 limit, and the bike also comes close to the maximum power-to-weight ratio allowed for that licence class. The Yam was also designed to be produced with a 250-cc engine, but otherwise near identical, for some markets, mainly in Asia. And it's built not in Japan but in Indonesia, for global sale in one form or the other.
That all-new DOHC, eight-valve parallel-twin motor shares its technology with other Yamaha models. It has an offset cylinder layout, like that of the larger MT-07 twin-pot unit, and features forged pistons plus carburised connecting rods, which have finer tolerances than standard items. Its dimensions of 68 x 44.1 millimetres mean it's almost as over-square as the new R1, and it's certainly designed to rev. Peak power is produced at 10,750 RPM and the limiter cuts in at 13,500 RPM.
By contrast, the frame is nothing like the aluminium beams of the R1 and R6, being a relatively simple tubular steel structure that uses the engine as a stressed member. It holds a steel swing-arm that operates directly on the near-vertically mounted rear shock, which is adjustable for preload only. There's no adjustability with the 41-mm KYB front forks, which hold a 17-inch front wheel and single disc brake.
The R3's fully faired look is designed to be as racy as possible, with a full fairing, mean twin-headlamp glare and even a blue-and-white paint option (with black as an alternative). But this learner-friendly newcomer is not a track-focused super-sports weapon like the R1 and R6. It's intended for everyday and even urban use, so its clip-ons are relatively high, and its riding position upright and relaxed, without too much weight on your wrists — although the fairly low seat (780 mm) and high foot-rests mean it's better suited to slim young riders than to creaky-kneed oldies.