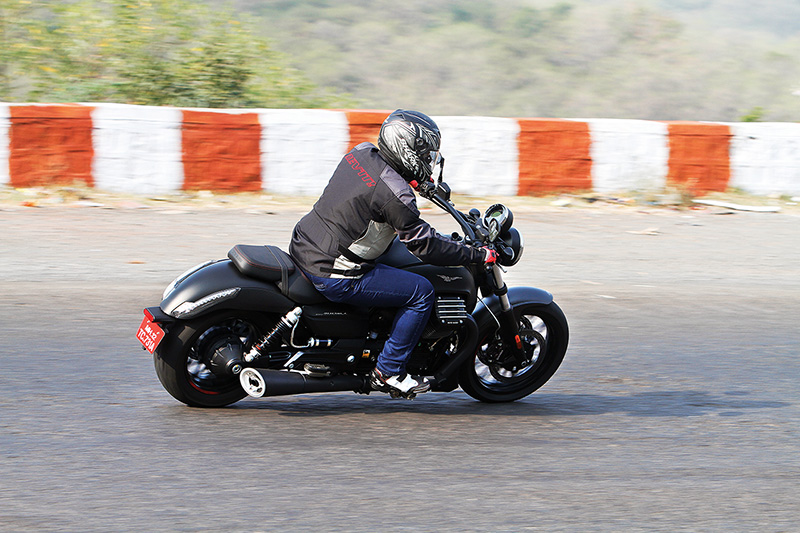 Performance is quite good, if not pulse-racing and the bike impressed me the most by its ride quality and handling. The suspension setup is just right. It features 45-mm forks and adjustable twin rear shocks. This setup is slightly on the softer side, thus allowing the Audace to take the Indian terrain in its stride without sending the shock right up your spine. Few big cruisers in India have this ability. The setup also lends the bike good ride quality which allows one to cover miles without thinking of a back massage at the end of the day. It also handles quite well for a cruiser. Show it a corner, not a really tight one, and it obliges every time you throw it into a bend. It is super stable through the corner and sticks to the chosen line quite well. Even in bumpy corners it never felt nervous, although I myself was, but the Audace maintained its composure throughout. There one thing most owners will notice about the Audace. Since it is a shaft-driven bike, it tends to behave slightly differently in corners. For example, when I was exiting a left-hander and got back on gas, it stood up quite aggressively unlike a chain-driven bike. When I accelerated out of a right-hander, the bike wanted to lean in further, almost trying to fall over. This attribute is quite typical of a shaft-driven bike, which, as mentioned earlier, requires getting used to.
The Audace really stunned me with its agility. When I was wending my way through the city to get on to the highway, I tried weaving through early morning traffic and it allowed me to do so fearlessly. The closed double-cradle frame is excellent and the weight distribution is also quite good. Besides, its sleeker dimensions also make the Audace a motorcycle easy to live with despite its kerb weight of almost 300 kilos.
Another impressive feature is the brakes. ABS is standard and the radial mounted four-pot Brembo anchors bite into those 320-mm rotors with ample force to shed speed rapidly. The feel is amazing both from the front brake and the twin-pot, floating, rear Brembo calliper.
All in all, the Moto Guzzi Audace is a cruiser that handles well, has more than ample power and torque, good ride quality and, most of all, easy rideability. These things combined with modern gadgetry and features make the Audace a really tempting everyday option you can live with. However, steepness is witnessed in its price, which, at Rs 19.7 lakh (ex-Mumbai), is a bit too much even for people with deep pockets. Besides, Guzzi's brand recognition in India still needs attention. However, if you love Italians and don't mind spending a few extra lakhs, then the Audace can really bring out the rebel in you. I would recommend the Audace for its easy rideability, handling, exclusivity and, most importantly, its tamed character and rebellious appeal.