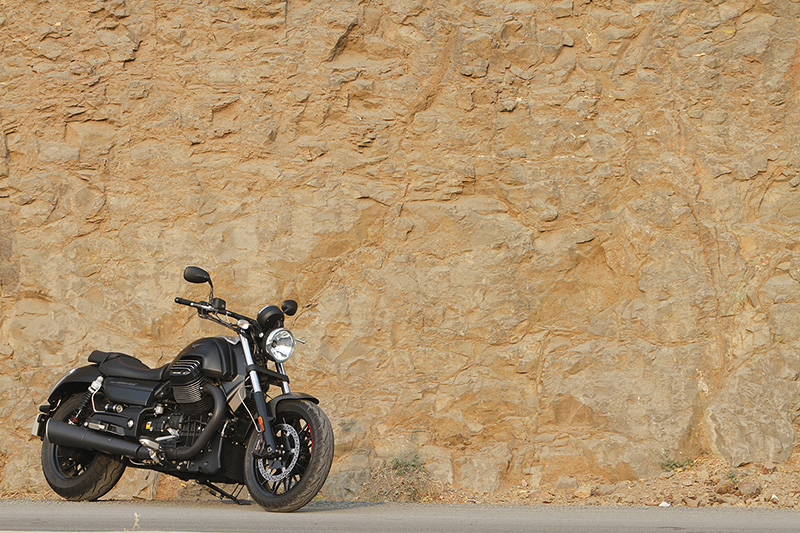 Ever heard of a rebellious bike? Well, Moto Guzzi have one and we rode it recently
A cold morning ushers in a fun day out in the field for me and my crew who were out shooting one of the most beautiful motorcycles from Italy. The gorgeous new Moto Guzzi Audace is essentially a blacked-out California but it packs in more appeal then its bigger and more relaxed sibling. The Audace has a very dark character, something that will appeal to the rebel in you. I say so because it certainly did that for me. Eager to know more about this enticing new Italian? Well, here it is.
Initially, the Audace feels and looks quite intimidating and why shouldn't it? After all, the bike comes from a family known for being big and beautiful. The most appealing aspect of the Audace for me, however, was its blacked-out appearance and the custom bike elements that made it stand out quite well. I mean black is the colour associated with rebellion and on the Audace you get that in abundance. There are bits on the Audace which add a lot of flair to its beauty such as its carbon fender, which, I am afraid, will go unnoticed in our country. The enthusiast inside me cannot resist writing about the classy Alcantara saddle, which is super supportive and makes you feel as if you are resting on a comfy lounge chair.
The Audace's wide handlebar, or drag bar as Guzzi call it, looks wicked and so do the massive matte-black megaphone exhausts with funky exhaust tip. It may be a cruiser, but it is as modern as Italy is. The Audace features a retro-looking console, though looks are deceptive here because there is nothing retro about it. The console houses an analogue tachometer with a crisp digital display sitting at the heart of it, showing an array of useful information. But the modern stuff lies in the electronics of the Audace. ABS is standard, so is traction control and the ride-by-wire throttle; not only that, since it is a cruiser, cruise control comes as standard fitment. Other goodies include multiple riding modes like Veloce (Fast), Turismo (Touring) and Pioggia (Rain). But my favourite bit is the smart phone connectivity, which is available as an option. You can connect with the Audace wirelessly via an app on your smart phone and see different parameters such as speedometer and tachometer, engine power and torque, instant and average fuel consumption, average speed and battery voltage, longitudinal acceleration and extended trip computer on your phone. Amazing, isn't it?
Feature-wise the Audace is as modern as it gets but my favourite bit on this bike is that transversely mounted engine. The 1,380-cc, four-valve, 90º V-twin powerhouse, which churns out 96 PS and a massive 121 Nm of torque, is the most striking feature of the Audace. The power and torque are transferred to the rear wheel via a slick six-speed transmission and Guzzi's trademark shaft drive that features the famous 'clunk' while shifting gears. The shaft drive, however, has one tiny niggle which many would find a bit weird. Shaft-driven bikes usually tend to lean towards one side — the side on which the shaft is located, that is — when revved hard. This attribute takes some time getting used to but once you get accustomed to it, it doesn't bother you at all.