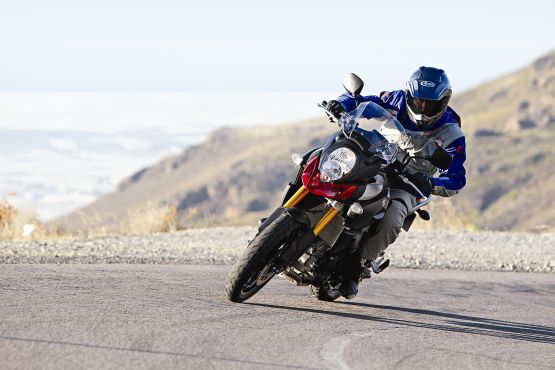 Similarly, other detailing is mixed, sometimes in a single item. The screen can cleverly be adjusted for angle through three positions with a simple push, based on the design of a Japanese chair called the 'zaisu'. The screen is also three-way adjustable for height, but range is just 30 mm and adjustment requires an Allen key — not great, when so many rival screens have a wider range of adjustability by hand.
I found the standard screen too low even on its highest setting but the turbulence wasn't too bad, and was reduced by the taller and wider accessory screen. The V-Strom provides no hand protection, although hand-guards and heated grips are available as accessories. An electrical socket is provided as standard. The accessory list also includes LED indicators, nylon panniers and top-box, centre-stand, crash-bars and fog-lamps.
Instrumentation is excellent, incorporating digital speedo, analogue tacho and a panel showing a variety of information — including fuel gauge, consumption and remaining range — that can be accessed by pressing buttons on the left handlebar. The tank is two litres smaller at 20 litres in capacity, but the engine's improved efficiency is likely to keep range roughly the same. I averaged just under 7 litres / 100 km and many owners will better that, giving a realistic 250-300 km.
That's reasonable if not outstanding, and will help make the V-Strom a respectably good long-distance roadster. Its lack of even notional off-road ability is disappointing, its engine performance is solid rather than thrilling, and its detailing is mixed. Nobody should take one look at Suzuki's beaky newcomer and think it's a cut-priced competitor for the R 1200 GS or KTM's 1190 Adventure.
But you won't go far wrong provided you accept the V-Strom 1000 for what it is: a capable and comfortable roadster with a smooth and flexible motor, sound handling, a reasonable level of equipment, a pleasantly unthreatening character and a sensible price. It's hardly compelling evidence of a dramatic revival from Suzuki. But unlike those hotels on the Almeria coast road, it's ready for action and provides some encouragement for the future.