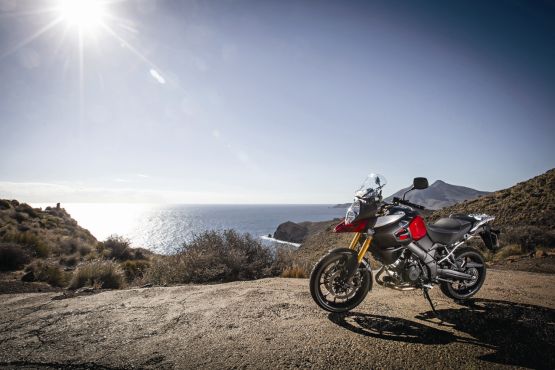 The V-Strom is freshly built and finished: proof that the bike firm is still alive and beginning to fight back. We rode it recently on coastal roads in Andalusia
Story: Roland Brown
Photography: Alessio Barbanti & Markus Jahn
Riding the V-Strom 1000 along the twisting Andalusian coast road past abandoned, half-finished hotels seems almost appropriate given the way that Suzuki have suffered, like the Spanish tourist industry, in the global recession. But the V-Strom is freshly built and finished: proof that the bike firm is still alive and beginning to fight back.
The V-Strom 1000 name is familiar, but this is an all-new machine, the previous model having fallen victim to emission regulations several years ago. Its beaky styling and 19-inch front wheel suggest that the Strom is a dual-purpose bike, built for dirt as well as asphalt. The fact that we've just ridden almost 300 km on the road, without venturing on to the trails that cross this part of Spain, suggests otherwise.
In fact, Suzuki make no pretence of off-road ability. The V-Strom is an adventure styled roadster; a rival for bikes such as Kawasaki's Versys and Triumph's Tiger Sport. It's intended to fill a gap between middleweights, including Suzuki's own V-Strom 650, and more powerful, versatile and expensive open-class adventure bikes.
Like its predecessor, the V-Strom is powered by an eight-valve, liquid-cooled V-twin with cylinders at 90 degrees. It's an almost completely new engine with a 2mm bigger bore giving a capacity increase from 996 to 1,037 cc. The cylinder-head, connecting rods and crankshaft are re-designed, the latter with a heavier flywheel for improved low-rev controllability.
Peak power output is up by just 2 PS, to 100 PS at 8,000 RPM, but Suzuki claim the real improvement is at lower revs. The maximum torque figure is also barely higher, but it's produced 2,400 revs earlier at 4,000 RPM, and the curve shows a big bulge upwards at that point, where the previous model was relatively weak. The revised injection and exhaust systems also contribute to a claimed 16 per cent improvement in fuel efficiency.