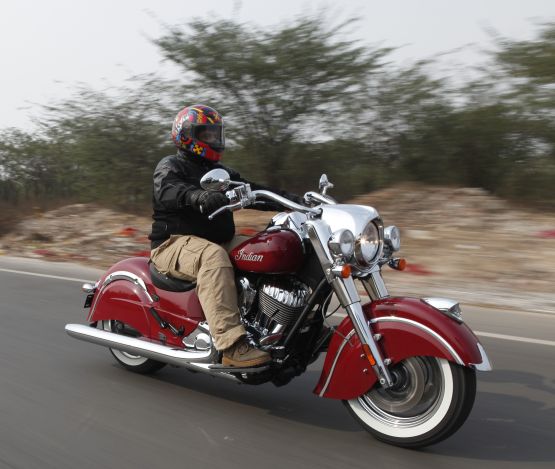 Once back on the highway I soon came across a chicane that consisted of a tight left-hander followed by a similar right-hander. I lined up the Chief on the straight before the chicane and prayed that it would be able to handle it. I cracked open the throttle quickly, working my way through the first and second gears before turning in for the left-hander. The turn-in was quick as the bike stuck to the line I had imagined and just when I was at the apex, I took a peek at the speedometer that read a surprising 120 km/h. As I exited the corner, I gently opened the accelerator and the bike straightened itself so I could simply repeat the same for the right-hander. It was astonishing.
At the end of the ride I just sat near the Chief, gazing fondly at it. I realised that nothing can hold a candle to this motorcycle when it comes to design. It has got loads of character and that typical American appeal. Everything on the Chief is so well executed that there is nothing that I found to be out of place, except for the standard rear seat. The fit-and-finish is top-notch and the quality of material the best in the segment. The chrome looks immaculate and the understated red paint job gives it a rich feel. The ultra refined V-twin is the highlight of the whole package and, quite frankly, the ride quality and handling are areas where the Indian is miles ahead of its competitors.
For an average rich Indian, the price is a little too steep, but then again this is not an average motorcycle. For Rs 26.5 lakh (ex-showroom, Delhi) you get a piece of rolling art. It is like an investment, which, over the next few decades, will fetch a really high price because of its emotional appeal. Very few bikes in the world can do that and the Indian Chief is one of them.
Story: Ravi Chandnani
Photography: Sanjay Raikar