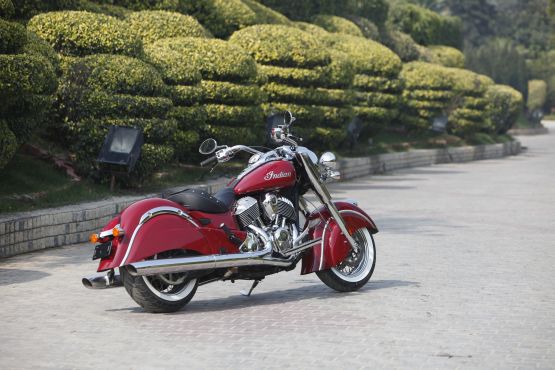 So the techno wizards and the creative minds at Polaris went on to create a rolling piece of art, which, in the coming years, will definitely be considered one of the most iconic designs of this century. They created a motorcycle that bore the name of the last famous motorcycle from the Indian brand: the Chief. At Sturgis it proved an exceptional hit and now, thanks to Polaris India, it is available in the country. So to take a look at this new motorcycle a bit closely and to ride it on Indian roads, I headed to Delhi where I had a meeting with the Chief. The sheer beauty of the Indian Chief left me agape when I first laid my eyes it. I could imagine why the name Chief was selected.
This new motorcycle perfectly represents the modern interpretation of the iconic Chief of the late 1940s. The valanced fenders transported me to the post-WW II America. True, I wasn't even born then, but somehow I could relate to this design. Looking at the huge fuel tank with the chrome instrument console sitting atop it I could imagine what was going through the designers' heads while they were crafting it. It has its unique identity and it would be, well, criminal if you compared it to the one on big Harley-Davidson bikes. The Chief has a lot of attitude and a distinctive character that is seen only on masterpieces like the MV Agusta Brutale and F4, Ducati 916 and Harley-Davidson V-Rod. Every bit of the Chief has been designed to evoke nostalgia and I am sure that many bike connoisseurs will agree with me on this count.
Elements such as the bike's chunky front forks, perfectly finished belt drive cover on the right side, the Indian war bonnet, chromed out headlamp unit, wide handlebar, retro-looking speedometer and fuel-gauge, white-wall tyres and wire wheels are all inspired by the original bike. The engine by itself is an objet d'art ─ I would love to put in a glass box and make it the centrepiece of my living room décor! It packs a heavy dose of chrome and has very interesting detailing that mimics the original bike's engine. The chiselled cylinder-head covers with beautifully sculpted fins, the breathtaking chrome pushrod covers, the imaginatively designed crankcase and air-box and the perfectly bent exhaust pipes make this engine a very prominent component of the overall design.