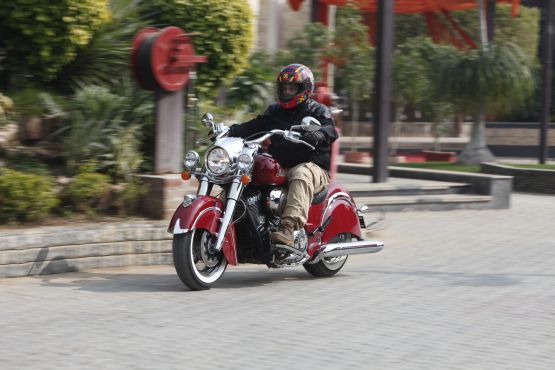 The ride-by-wire throttle has excellent feel and it reacts very well to even the slightest input. This also ensures smooth power delivery, which impressed me highly as I cracked opened the throttle on an empty straight section of the tarmac. The immaculate power delivery of this bike and its immense 138.9 Nm of torque simply propelled the bike to triple-digit speeds even before I could shift up from the second to the third. It was amazing to see how well the engine reacted to a throttle controlled by a computer. It is not only the engine that is impressive, the six-speed gearbox of this bike also has a lion's share in the whole process. I found the gear shifts to be precise and smooth and my left foot never felt as if it was working hard to shift a cog. Suffice it to say that the refinement and smoothness of the V-twin motor together with the exceptional power and torque delivery changed my perception about American V-twins.
Another breathtaking aspect of the Indian Chief was its handling. Usually people are intimidated when they see an eight-foot-long motorcycle that weighs 350 kg, but, believe me, once you start riding everything feels much lighter. It doesn't exactly feel like an agile Japanese sports bike, but, considering that it's a cruiser, its agility and handling have surely set a new benchmark.
As mentioned earlier, I was riding the bike on the Gurgaon-Faridabad highway, which is a perfect mix of zigzags, straights, bumpy sections and some amazingly flowing corners. I was surprised to see how well-balanced the bike felt. In bumpy corners the bike never lost its composure even though I was a bit scared about falling mid-corner because of the bumps. The suspension setup perfectly suits Indian conditions as it absorbs all the bumps and undulations with ease. I purposely took the bike to a construction site where the approach road was in a mess and found that the suspension handled the torture exceptionally well even on broken surface.