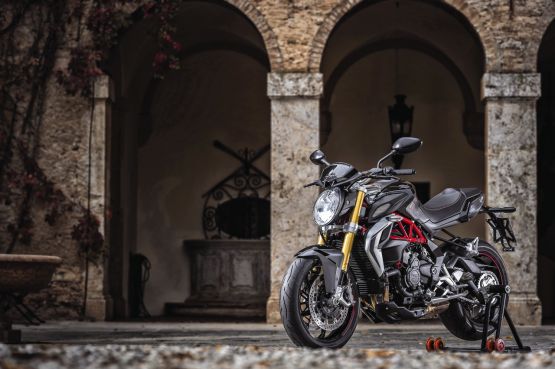 Brutale RR
The name Brutale has always conjured up an image of a lean and powerful, if not actually brutal, naked roadster ever since the original Brutale snarled on to the streets in 2001 with its revvy 749-cc four-cylinder engine. Since then MV have done a good job of broadening its range with triples, including the Brutale 675 that is the closest this most glamorous of bike firms has to an entry-level model.
And now MV have gone back to the Brutale's roots with a triple that is every bit as mad, bad and bursting with attitude as that original four-pot hooligan machine. As its two extra initials suggest, the Brutale RR is a more extreme and racy version of the Brutale 800. That bike already has a well-deserved reputation for being fast, light, sporty and stylish. The RR goes a step further in all directions.
There's not a huge difference in the look, though the stubby, compact triple is subtly tweaked with revised seat and LED tail-light, new five-spoke wheels, fresh two-tone paintwork and gold fork sliders. The triple's compact size, dry weight of just 168 kg and fairly slim and low (810 mm) seat help make it manageable at low speed.
With that 140 PS output, heaps of mid-range torque and stubby 1,380-mm wheelbase the Brutale was always likely to be a hard-charging, wheelie-happy riot of performance. The moment you tweak the light-action throttle it comes alive, leaping forward enthusiastically as the smooth-revving triple motor responds to every command, helped by fuelling that was good, barring slight hunting at about 5,000 RPM in town.
The three main modes are 'Sport', 'Normal' and 'Rain'; and even 'Normal' gives seriously crisp throttle response and storming acceleration, backed up by a soulful, fast-changing howl from the pipes down by your right boot as you flick through the box with your left, the ride-by-wire throttle pinned.
Better hold on tight and keep your weight well forward and your mind on the job, because this is one lively, wheelie-happy motorbike. The front lifts spontaneously in the second and even occasionally in third gear at about 8,000 RPM, especially if there's the slightest help from a dip in the road.
Handling is light, agile and sharp, and with its firm suspension the Brutale felt as though it would have been perfectly at home if the launch had diverted for a few laps of the nearby Mugello circuit. Unfortunately, the Brutale often felt almost as harsh as the Dragster RR as it passed on the bigger bumps through the bars and seat, sometimes firmly enough to make precise throttle control difficult.
Ideally, I'd have tried softening the multi-adjustable suspension, but limited time and constant bike swapping made that impractical. The Brutale was still rapid, if sometimes twitchy enough to make me glad of its adjustable steering damper. It had plenty of grip from Pirelli Diablo Rosso II rubber, and powerful stopping from ABS-equipped Brembo radial front callipers, complete with anti-stoppie setting.
Of the two new MVs this is the less extravagant and more sensible option, though that's not saying an awful lot. There are doubtless bikes that would have covered those bumpy roads more calmly; some even faster too. But not many would have been more fun or dumped more adrenaline into my bloodstream than the outrageously quick, light and well-named Brutale RR.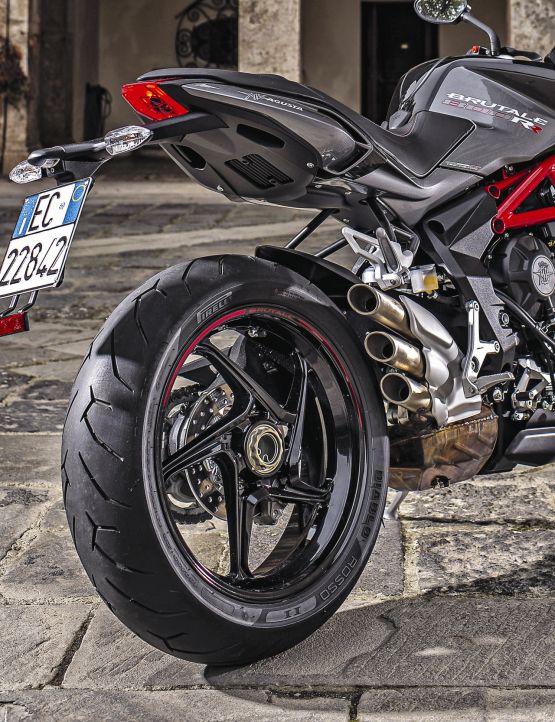 More on Page 5>