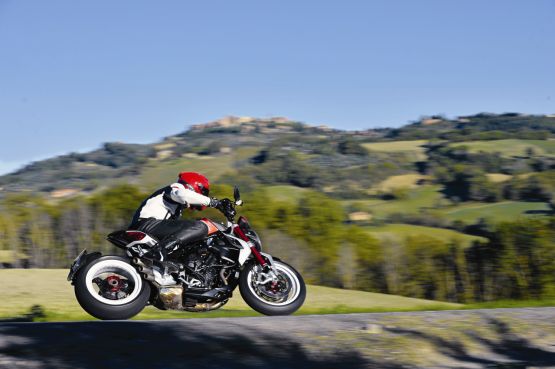 The Dragster RR accelerates hard, sure enough, but it likes nothing better than to get that front wire-spoker far from the ground. When you crack the throttle open it's common to get an unintentional wheelie in second gear, or occasionally even third if the front wheel goes light over a slight crest. Fortunately, the steeply raised near-single seat helps by keeping your weight well forward as the RR storms towards a claimed top speed of 245 km/h that is doubtless realistic if your neck muscles are strong enough, making a delicious three-pot howl through its tiny silencers.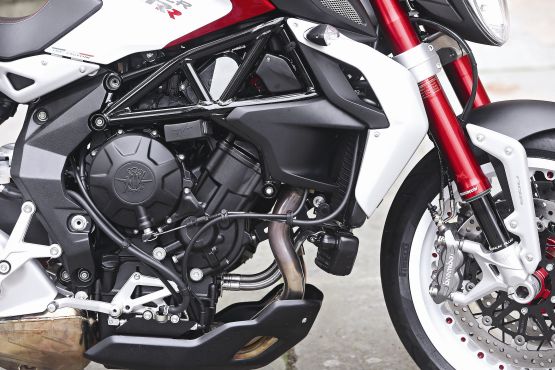 This MV also helps with respectably crisp and well-controlled fuelling. There are four modes: 'Normal' and the sharper 'Sport', plus a 'Rain' mode that softens output to a lower maximum, and 'Custom', which can be personalised with rider-defined settings for throttle response, traction control, engine braking and more. Both 'Normal' and 'Sport' gave slightly erratic running at a steady 5,000 RPM in town but generally worked well.
Most of the time I stuck to 'Sport' because this adds the RR models' other new feature, the quick-shift auto-blipper which, like that of BMW's latest S1000RR, allows clutch-less changes both up and down through the six-speed box. It worked really well, giving reliable and very quick down-shifts with minimal mental or physical effort.
Handling was a bit more like hard work. The basics are all intact, with a stiff frame, taut suspension and racy geometry on a bike that weighs just 168 kg dry. The RR tracked well on smooth roads and was deliciously agile, but many of the lanes of rural Tuscany were bumpy enough to get it twitching and crunching, as the firm suspension passed on every imperfection to the bars and seat, sometimes so much that it was difficult to prevent the light-action throttle from being affected.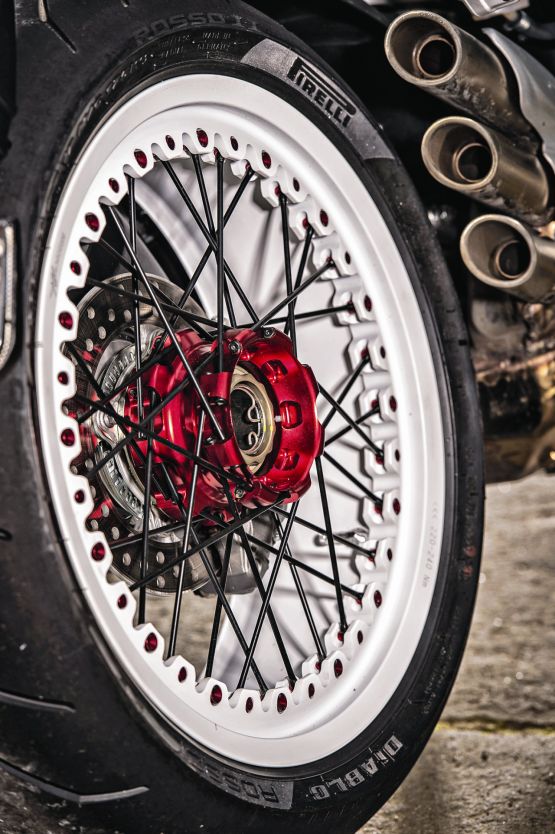 I'm not sure that the super-wide 200-section rear Pirelli helped its cornering stability either, although it certainly puts plenty of rubber on the road. The agile, hard-charging MV was still respectably quick round those Tuscan back roads, and could doubtless have been made faster still by adjusting its suspension to suit the surface. It stopped hard too, occasionally triggering the ABS, which was probably cutting in not due to the front wheel locking, but due to the anti-stoppie function.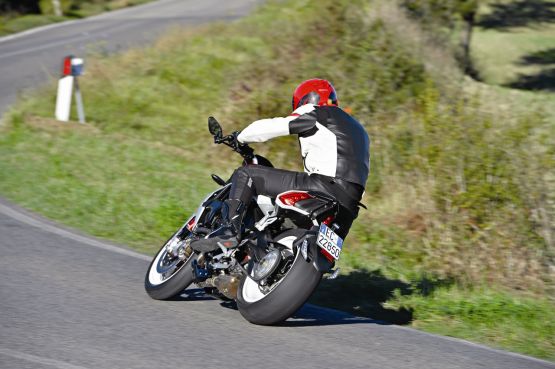 More on Page 3>