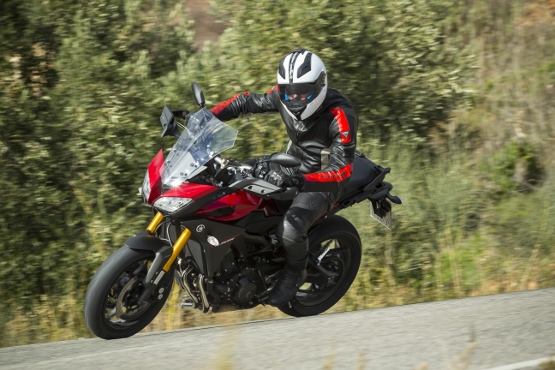 It felt pretty light too, as I reached forward to a one-piece handlebar which is wider and slightly higher than the naked model's and gives an upright and roomy riding position in conjunction with a seat that is considerably broader and thicker, and can be adjusted between 845 and 860 millimetres. (There's also a lowering kit of seat and rear shock linkage that bring this down to 815 mm.)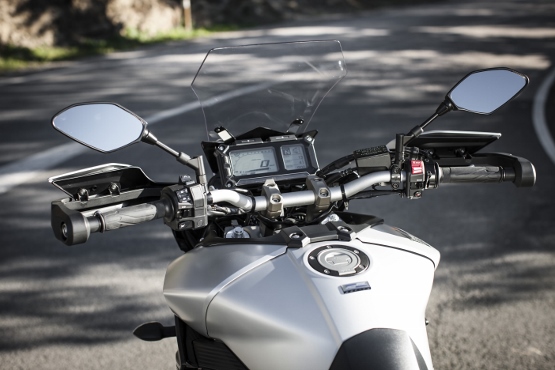 The rider's view is of the wide handlebar (whose position can be tweaked by reversing its clamp) and its substantial hand-guards, plus a rectangular instrument console developed from that of the Super Ténéré, and the screen, which is fairly small but broader at its top. As we headed west away from the launch base north of Malaga on a cold morning the screen did a useful job of diverting the wind, but the hand-guards didn't keep off all the breeze. Hence the line of Tracers being ridden one-handed while riders who'd optimistically chosen thin summer gloves held left hands out of the air stream.
An occasional stretch of clear road gave the Tracer the chance to confirm that its engine had plenty of go. The 12-valve unit was strong enough to be instantly reminiscent of the MT-09's, pulling from below 3,000 RPM, then displaying much of the storming mid-range and rev-happy top-end performance that helped make the naked triple an instant hit. Not that the ride-by-wire throttle was as sharp as that of the original MT, whose snatchy response was toned down some months after the bike's launch by a software update that was offered to existing owners as well.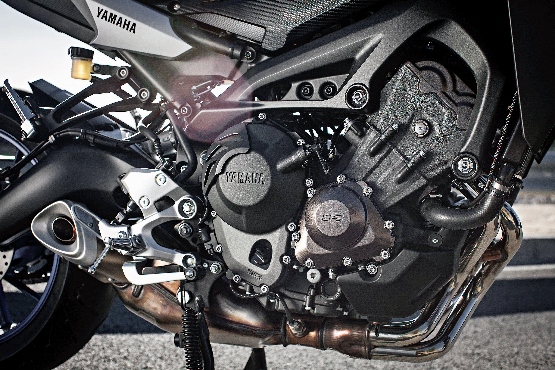 The Tracer follows the MT-09 in having a standard riding mode plus sharper A and softer B, but felt slightly softer in each one — almost as if its A mode was the equivalent of the original middle setting, though, according to Yamaha, it's not quite as simple as that. The result will doubtless suit most riders although it does mean that a little of the original naked bike's entertainingly sharp character has been lost. In A mode there was still sometimes a slight abruptness to the response, so the set-up isn't quite perfect, but this was barely noticeable provided I opened the throttle smoothly.
Under hard acceleration there was a slight tingling through the seat and foot-rests, but that wasn't a problem and on a steady throttle the Tracer was very smooth, its three-cylinder character enhanced by an exhaust note that seemed slightly throatier than the naked MT's. The Tracer has also gained a traction control system that is non-adjustable but can be disabled by holding down a button on the dash, for example if you want to pull wheelies. On roads that were sometimes very slippery, and occasionally had the Dunlop D222 tyre twitching slightly, I was generally happy to leave it on.