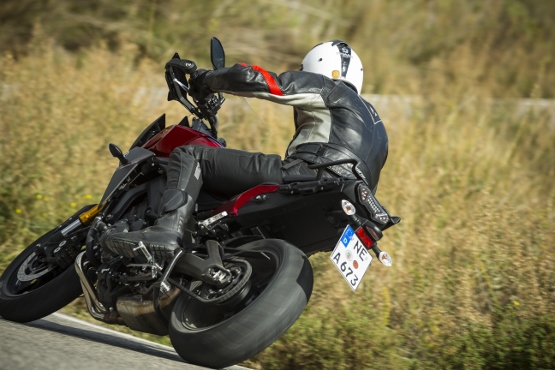 Most of the Tracer's other practical aspects seemed equally well thought out. Fuel capacity is increased from the MT's 14 litres to 18 litres which, with the bike averaging an economical six litres/100 km on the launch, should mean a realistic range of getting on for 300 km. Fuel consumption is shown on the comprehensive display that can be toggled via a switch on the left handlebar. The mirrors are too narrow to give most riders a full view behind, but useful touches include easily adjustable headlights, plus a 12V socket and centre-stand as standard fitment.
There are plenty of accessories, too, with extra practicality available via a taller screen, heated grips, semi-rigid panniers, a top-box and additional 12V socket. Sportier options include parts designed for the MT-09 such as billet levers and foot-rests, LED indicators and a full Akrapovic exhaust. Build quality seemed reasonable if not exceptional, and styling is sharp in the colour options of red, grey and 'Race Blu', the latter with white tank, fork sliders in blue instead of gold.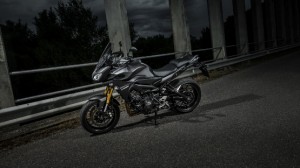 The overall effect is undeniably impressive. On riding the Tracer, even more than when simply examining the bike or its specification, I really got the impression that Yamaha's development team had asked all the right questions about what riders want from a sports-tourer, then made every effort to supply the most important features, with a minimum of compromises. Given that, and the fact that they started with the same powerful and light base as the MT-09, it's no surprise that the result is such an excellent motorbike.
Better still, the Tracer very much continues Yamaha's recent policy by being priced very competitively – so much so that even some of its closest rivals suddenly start to look rather expensive. It's certainly difficult to think of anything else that provides comparable performance and all-round ability for similar money.