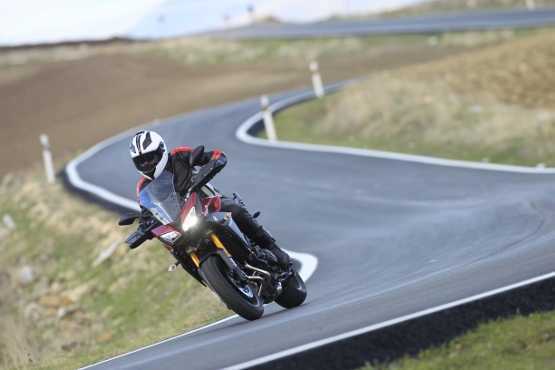 After we'd turned south and started climbing, those roads soon gave the Tracer the opportunity to show that it handles very well. Its steering geometry is shared with the MT-09, as is the fairly generous suspension travel of 137 mm up front and 130 mm at the rear, but spring and damping rates are increased at both ends. That's partly to cope with the sports-tourer's extra weight, but the firmer damping levels seemed better chosen, and the Tracer had a distinctly more controlled feel from its front end when cranked into a turn.
Being almost 20 kg heavier, it unsurprisingly didn't feel quite as flickable as the naked MT, but by sports-touring standards the Yam was very light and agile. That generous fork travel meant that it steered more sharply after I'd compressed the 41-mm forks with hard braking. That was easy to do thanks to the impressively fierce yet controllable power of the front stopper, which combines radial four-piston front callipers with 298-mm discs, and incorporates an efficient ABS system as standard.
Naturally that generous suspension travel was also useful for its ability to soak up bumps, contributing to an impressively high level of comfort. The seat contributed to that, being both wide and well-padded, notably so for a pillion who also gets grab-handles at either side. The seat's quick adjustability meant that, being tall, I could gain some legroom by putting it on the higher setting.
I found the upright riding position comfortable and was fairly impressed by the screen's protection, though the modest 30 mm of adjustability meant that I couldn't eliminate wind noise completely. The screen is adjustable by hand after you've loosened the pair of plastic knobs on either side, a solution that is functional if not as elegant as the one-handed adjustment offered by some rival sports-tourers. Some of them are better at keeping off the weather, but for many riders the Yamaha's blend of protection, style and light weight will be just about right.