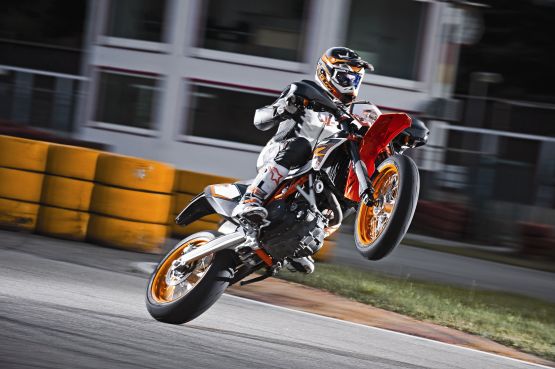 690 SMC R
Supermoto street singles are hardcore, polarising motorcycles. Most motorcyclists either love the way they provide maximum thrills at relatively sane speeds, or dismiss them for being useless except for tall people riding short distances. The 690 SMC R was already arguably the best of the bunch because it maximises the advantages and minimises the inescapable drawbacks pretty well. With this latest update it does both of those things better than ever.
It's a classy looking bike, its many neat touches, including the orange-finished chrome molybdenum steel frame tubes, and matching anodised parts, including the fork yokes and wheel rims. The new 690cc, SOHC liquid-cooled engine is borrowed straight from the Duke, its maximum output of 68 PS at 7,500 revolutions per minute reduced by a single horsepower due to a smaller airbox. The SMC is also updated with new WP suspension at front and rear, and with an ABS brake system that's fine-tuned for supermoto use, and has an anti-stoppie function as standard.
The SMC R isn't a pure race bike like KTM's 450 SMR, but it's a very focused machine with plenty of competition breeding — and it feels pretty serious when you get astride a long, thin and not very comfortable single seat that's a dizzying 890mm off the ground. At least the long-travel suspension — there's 215mm up front and 250mm at the rear — compresses enough to allow average height riders to get a foot down. And at just 144 kg wet (without fuel) the KTM is light enough to be manageable as soon as you pull away.
It's also entertainingly quick, helped by that lack of weight plus the punchy engine. That lost single horsepower is more than compensated for by the SMC's shorter gearing, due to two extra teeth on the rear sprocket. There wasn't much doing below 3,000 RPM but cracking the ride-by-wire throttle open with five grand showing on the analogue tacho sent the bike leaping forward, its front wheel in the air if given the slightest encouragement with a dip of the clutch lever or front suspension.
Despite its track-ready look the SMC R makes a usable roadster, and it even coped tolerably well with a short stretch of motorway, shortly after leaving the Barcelona launch base. It cruised quite smoothly at 120 km/h, and rumbled up to about 180 km/h, feeling faster due to some vibes coming through the wide, one-piece Renthal handlebar, and to my inability to hide behind the tiny headlamp surround.
The SMC R stayed impeccably stable at speed despite the forces being fed through the chassis, even through fast motorway curves. But, inevitably, it was more at home on slower roads — and especially after we'd turned off at a nearby kart-track. This was a typically tight, tyre-lined circuit where even the KTM spent almost all the time in its first two gears, and where its flickability and lightness were major assets.
Few bikes would have kept up with the light and ultra-manoeuvrable KTM on a track this tight. Its WP suspension is excellent and fully adjustable, the forks via neat, hand-tweakable damping knobs on their tops. The single was fun to thrash around the twisty track although its long-travel suspension gave a slightly vague feel on the tarmac surface, and I couldn't make up my mind whether to try a leg-out supermoto style or ride it like a road-racer.
Stopping power was fierce thanks to the lightweight KTM's big 320-mm disc and Brembo radial calliper, with an ABS system that worked well even on the track. For normal riding the system incorporates an anti-stoppie function, but the launch bikes were fitted with KTM's under-seat dongle that disables the rear ABS, allowing skids of the ContiAttack SM radial into turns. Well, it does in theory, though in half-an-hour I didn't get close to mastering that technique either…
Still, the SMC R was fun for a few laps and some wheelies. It's not practical, except by the standard of other supermoto bikes, and it's not cheap either. It's a specialised bike that won't make much sense for many riders. But the KTM is a classy piece of kit that works better the harder it's ridden. And for road-going thrills at speeds that probably won't get you locked up, it's very hard to beat.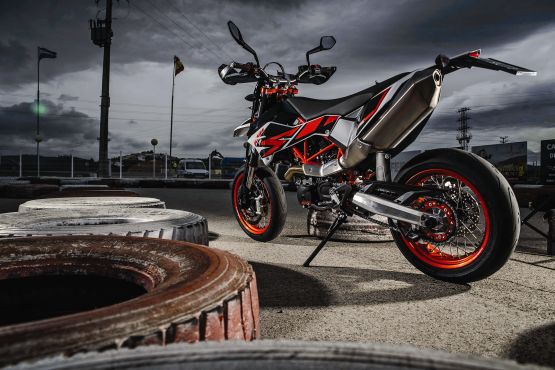 More on page 3 >