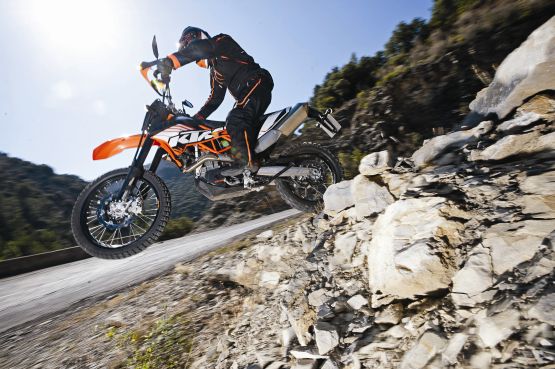 690 Enduro R
Street and supermoto singles are fine, but bikes with lumpy tyres are what KTM does best of all. And for a blend of on- and off-road use, the pick of the Austrian firm's large range of enduro bikes is the 690 Enduro R. Especially now that it's updated in similar fashion to the SMC R, with the dual-spark engine, latest WP suspension and ABS that's fine-tuned for the job in hand.
With so many adventure bikes around these days it's not unusual to be riding a fairly large-engined bike on a dirt or rock- and sand-covered trail. But it is rare to be riding one that's as well suited to the conditions as the Enduro R, whose blend of flexible power delivery, light weight, agility, suspension control and braking ability — off-road included — put it in a different league from many rivals.
Before we hit the dirt trail we had to reach it via road and even a short burst of highway, and the Enduro R wasn't remotely fazed. Its tubular steel frame and aluminium swing-arm are shared with the SMC R, as is the angular plastic fuel tank, which holds only 12 litres but is good for about 200 km due to the LC4 unit's typical economy of not much more than 5.5 litres/100 km.
Engine performance is identical to the SMC R's, but the Enduro R's gearing is even shorter so it seemed slightly breathless on the highway, where a 110 km/h cruise felt fast enough, and top speed was not much more than 170 km/h. But with a similarly light 143-kg dry weight the Enduro was quick off the mark. And it was generally stable, though unlike the SMC R it had a slight tendency to weave through fast motorway curves.
The Enduro R's rising-rate WP rear shock gives an identical 250mm of travel to the SMC R's, but the dual-purpose bike's WP forks have even more travel — a whopping 250mm, making sitting astride it a tiptoes-only proposition unless you're tall. Like the SMC R's, the forks' compression and rebound damping circuits are separated, allowing more precise tuning. Wheels are narrow and wire spoked, in 21-inch diameter front, 18-inch rear sizes; the front brake has a relatively simple twin-piston Brembo calliper.
That's all fine on dirt or rocks, which is where we rode next, after turning off the road on to a rutted, boulder-strewn trail on which the Enduro R was totally at home. Its abundance of well-controlled suspension travel was invaluable as the light and agile KTM picked its way sure-footedly along tracks that would have been difficult if not impossible on many dual-purpose bikes.
The off-road ABS worked well too (adapted with a dongle, as with the SMC R), occasionally cutting in on the front wheel when I'm not sure it was needed, but working reliably and helping make the Enduro R as rider-friendly a bike for less experienced off-roaders as it is a serious tool for experts. Like the SMC R, the Enduro's ride-by-wire system offers a choice of three riding modes (Comfort, Sport and Street) plus a softer one for use with low-grade fuel. But the switch is under the seat, so is not much use in general riding.
The launch bikes were wearing Pirelli Rallycross tyres that were better suited to off-road riding than the Metzeler Enduro 3 Saharas that the bike wears as standard. But if that was a touch of cheating on KTM's part, it was easy to forgive the Enduro R. It's expensive compared to most dual-purpose singles, but this bike is the real deal: a street-friendly enduro bike from the firm that does dirt-busting singles better than any other.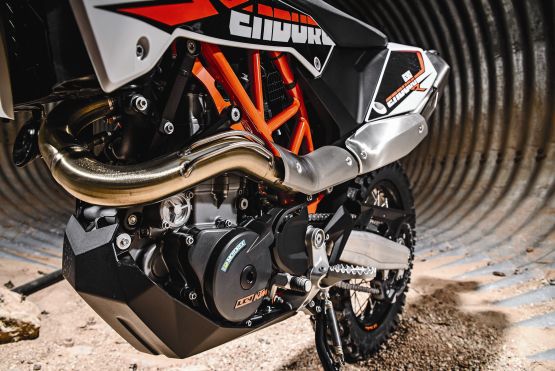 More on page 4 >