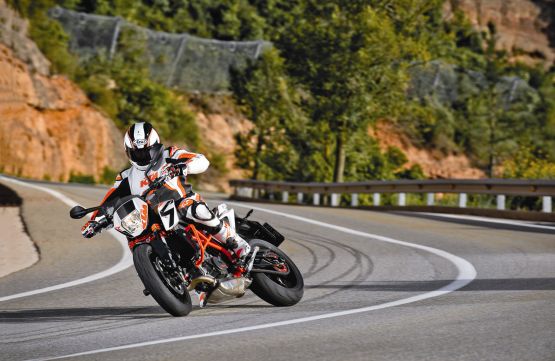 690 Duke R
After stepping off the SMC R or Enduro R, the Duke R felt almost restrained and sensible; it's lower, heavier, bigger, better-equipped and generally feels like a proper street bike. But compared to most other bikes on the road, this most glamorous and expensive of the LC4 range is focused and purposeful; built for maximum entertainment on twisty tarmac or, better still, a racetrack.
The Duke R isn't changed since its launch last year, but it's distinctly different from the standard 690 Duke on which it's based. That bike, launched two years ago, introduced the twin-plug LC4 engine, and was equally significant because it reflected KTM's aim of softening the notoriously hardcore Duke and making it more appealing to a wider audience.
The Duke R takes things sharply back in the opposite direction. As its R initial suggests, it's basically a hotted-up version of the Duke, inspired by the machines that were raced in the European Junior Cup. Its chassis is upgraded with fully adjustable, 43mm WP suspension, which, perhaps surprisingly, has a generous (by street bike standards) 150mm of wheel travel at each end, 15mm more than the standard bike's. It also has Brembo's top M50 calliper and higher-specification master cylinder, rather than the normal radial four-piston job, to bite its single 320mm front brake disc.
Other mods include the addition of crash-bars bolted to the chrome-moly frame tubes, and a top yoke anodised orange to match. An Akrapovic slip-on silencer adds a couple of PS to the otherwise standard 690cc engine, bringing the maximum output to 71 PS at 7,500 RPM. The R bike also has rear-set footrests and comes with a pillion seat cover for a suitably racy look. Other than that its angular white, orange and black shape is identical to that of the standard Duke.
After a quick warm-up spin on the standard model I was surprised to find that those rear-set and higher footrests were the most obvious difference as soon as I'd climbed aboard and pulled away. The wide and slightly raised one-piece 'bar gives a similarly upright, in-the-wind riding position to the other models, but the lower seat (at 865mm it's still quite high by most roadster standards) and sporty footrests put more weight through your legs.
Straight-line performance at most speeds was much like that of the other models, the Duke R's extra couple of horsepower helping compensate for the fact that, at 149.5 kg wet, it's a few kilos heavier. The biggest difference in perceived speed probably came from the Akrapovic silencer, whose pleasant thrapping note encouraged plenty of revs.
With its taller gearing (though unchanged from the standard Duke's) the Duke R was slightly more relaxed at higher speeds, and happy to sit at an indicated 130 km/h plus for as long as I was prepared to hold on into the wind. Or until the fuel ran out, of course; the Duke models get 14 instead of 12 litres capacity, so would be good for 250 km even if ridden hard.
And you're certainly likely to ride hard on the Duke R, at least on a road with any bends in it. It might not be quite as skinny as the SMC R and Enduro R, but by most street bike standards it's outrageously light — and also superbly taut, agile and sweet steering. And that single radial Monobloc calliper delivers heaps of controllable, ABS-assisted stopping power, too, in conjunction with a grippy Michelin Pilot Power tyre. As with the other R-models, the ABS can be set to front wheel only via a dongle.
The Duke R was fun to throw around the twisty and traffic-free roads inland from Barcelona, feeling sportier and slightly more refined than the standard model. Ride quality and suspension control were excellent, though you'd have to be on a racetrack to get the full benefit. KTM certainly have plenty of faith, claiming it's "impossible to over-extend the chassis even with extreme cornering speeds of racetrack use on slicks".
Whether that would justify the considerable extra price — typically just over 25 per cent higher — over the standard Duke is another matter. Upgrading the standard bike with the rear-sets and silencer, plus maybe a suspension upgrade or goodies from KTM's well-stocked Power Parts catalogue, would arguably result in a similarly exciting and capable bike for less money. But if you want the world's quickest, trickiest single-pot roadster straight out of the crate, the 690 Duke R is surely exactly that.