The engine is powerful and fairly refined and the performance is not bad either for this heavyweight. As for the handling, it is…, well, just like a long-legged chopper. I never expect a cruiser to behave in the same nimble and agile way that a sports or street bike would, but I do not expect it to be a handful either. The Breakout's handling is somewhere in between. The suspension is on the firmer side and on smooth roads that is not really a problem as the ride quality is good. However, as the road gets bumpy, the suspension will be more than happy to communicate that to your spine. The brakes are good with ample bite, though the communication could have been a little better.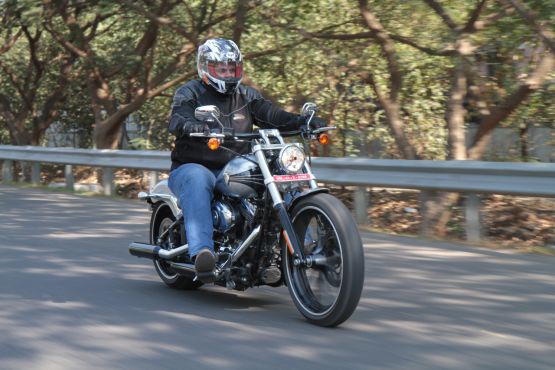 At low speed, you can feel the bulk of this hulk. It tends to be floppy in corners while going slow, though things are manageable thanks to the low centre of gravity. But try to show the Breakout a few corners and you will be shocked, but then that will also give you a chance to understand the drag-bike connection. In a straight line, nothing can shake the Breakout. In the corners it just wants to keep going straight while you want to turn. It requires quite an effort to lean the bike into the corner and then take the turn, but the lean angle is limited thanks to ultra-low foot-peg position. The feeler tends to dig into the tarmac the moment you forget about how low this bike really is and that could be a problem if you go too hot into a corner. But you can enjoy some good old heavy-duty American cruising as long as you stay away from the twisties and ride on the long and straight roads. Apart from that, there is hardly anything that I felt was wrong with the bike.

The Breakout for me is the ultimate star in the company's Softail line-up; I like it even more than the iconic Fat Boy. The Breakout is to some extent the personification of individualism, which will add a lot of class and glamour to your persona. However, if you really want to make it a mite more special, you can buy it for Rs 16.5 lakh (ex-Delhi), and spend another few lakh of rupees further individualising it, to make it truly and uniquely yours. After all, it is one of the best canvases on sale from Harley-Davidson. So go ahead, paint a pretty picture.