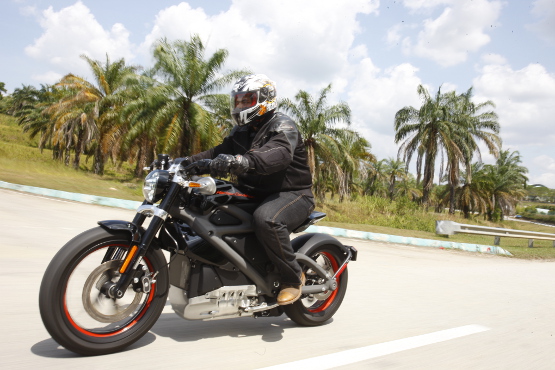 It also surprised me with its handling and ride quality. Since all the weight is concentrated low-down in the centre of the bike, it has a great centre of gravity, which makes it very easy to ride. Moreover, a comfortable and neutral riding position gives you the confidence to push the bike harder than you would dare to. In fact, I was so stunned by its handling that I was asking the people associated with the project how Harley-Davidson managed to do it. But I was left guessing.
The LiveWire has superb stability on straight roads and in corners it transforms into a corner-craving machine, very unlike a Harley. The suspension set-up is slightly on the firmer side, which on smooth roads makes it an absolutely well-behaved handler. You can throw the bike into corners without the fear of tipping over. Plus the Harley-Davidson branded Michelins provide an unbelievable level of grip. They are pretty sticky.
I was sceptical before riding the bike. In my mind I thought that it would be just a heavy battery-powered push-bike with no handling credentials. However, this perception of mine evaporated into thin air as I had a go at it. I came back from the ride wondering whether this thing was made by the Japanese or the Germans, because it felt exactly like what they would do. However, I was convinced by Harley-Davidson that this is an all-American electric motorcycle built by one of the oldest motorcycle manufacturers in the world.
Harley-Davidson wanted feedback regarding this motorcycle and I would just like to say that the Project LiveWire is, by far, the best electric motorcycle I have ever ridden. I earnestly desire that H-D get some serious positive feedback just so the LiveWire may enter production and the world can have a go at it because it's quite an experience that would thrill almost everyone.