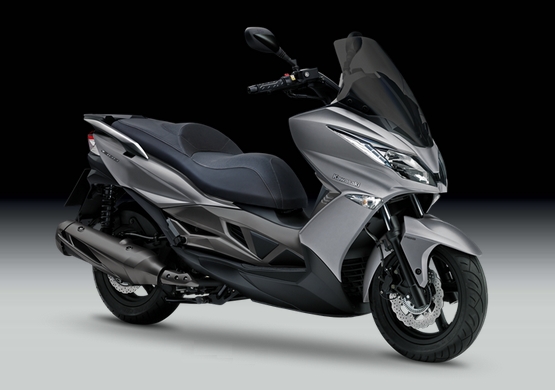 Would you like a power scooter? How bad is city traffic? Is it bad enough to fore-go your geared motorcycle in favour of an automatic scooter? If you've answered 'yes' to that last question, you probably would be considering a 125-cc scooter, because, apart from the Aprilia SRV 850, that's all we have.
I had touched upon this topic some time ago. We discussed power-scooters. The question is , would manufacturers see it the way we do? Would you pay between Rs 2-3 lakh for an automatic scooter? Maybe, the numbers and ride quality would have to be experienced before answering the question related to price – especially an asking price as high as the ones these demand. Take the Kawasaki J300, for instance.
With 28 PS from its 299-cc motor, it can be a fun machine to ride without compromising on acceleration. It has the output of a Hyosung GT250R and more torque than a Royal Enfield Bullet 350. But, above all, it's a twist-and-go automatic which makes life very easy when negotiating with chaotic traffic. The seating comfort, storage space and relatively lighter weight are strong positives.
There are others too. Yamaha have a brilliant line of scooters in the NMAX and even the more powerful 530-cc TMAX. There's the stylish old-school Vespa GTS 300, and the Suzuki Burgmans, which are actually available in capacity ranges from 400-700 cc. Interesting lot, don't you agree?
For now, I'll have to stick with my beloved long-termer, the TVS Scooty Zest 110, and be happy with its 8 PS. It's quick, nimble and can reach speeds of over 80 km/h when going full throttle. I've ridden a Bajaj Sunny back in the day (which was about 17 years ago) and that was a 50-cc two-stroke making 3.5 PS and a torque figure which I don't even remember. It's different now. Scooters are more powerful and pack so many more features. The Sunny? It didn't have an electric starter, or even turn indicators. What it did have was a plastic body so thin, it flexed like card-board, and I loved it.
The bottom line: Automatic scooters are not the reserve of young college girls any more. I've seen blacked-out, modified (and illegal) scooters without number-plates ridden by people who look like circus rejects with their arms spread out like they're on parallel bars, but the choice cannot be denied. The 125-cc scooters are a very capable lot and I think it's time we saw more powerful options too. What do you think?