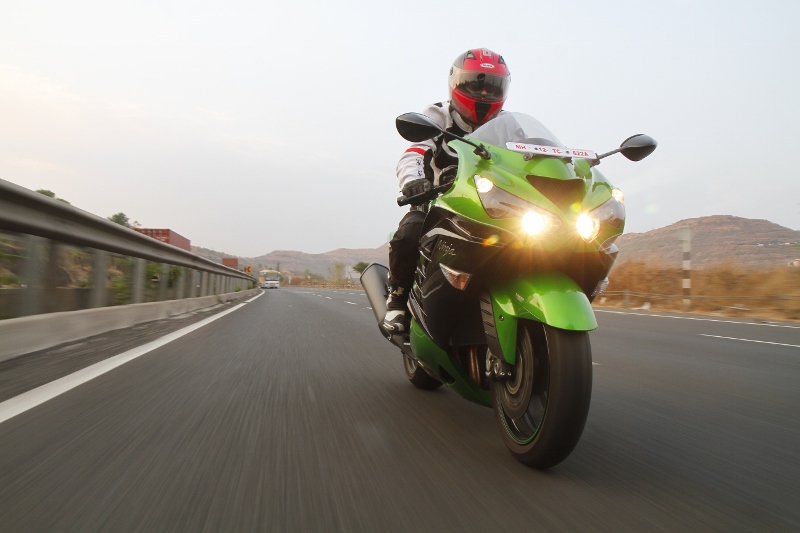 For years, we hankered for superbikes on Indian roads. For years there were none. Now there are plenty. Perhaps it's time the roads became worthy of the bikes?
The other day, while out on a photoshoot of the Kawasaki Ninja ZX-14R, I found myself riding at speeds anywhere between 40 and 100+ km/h. The reason? The roads were too restrictive for me to experience even a fraction of what the motorcycle was really capable of. After all, the fearsome ZX-14R is one of the fastest production motorcycles in the world, capable of a 300 km/h top speed.
For years, nay, decades, the Indian motorcycle afficionado had been hankering for superbikes. Those who had the resources and the desire would find surreptitious ways of importing these exotic machines from far and wide using loopholes in the law or in the integrity of government officials. Then came the 1990s, a decade that threw open the gates of India to a new era of economic liberalisation. Twenty-five odd years on, the Indian economy is burgeoning and all those superbikes that we all wanted but could never have are now here. You can buy your very own exotic two-wheeler in practically any city in the country. From a musclebound American cruiser to a lithe Japanese supersport to a British classic to a thoroughbred Italian, pretty much everything can be yours so long as you can cough up the dough for it. What's more, these aren't some old stock from evolved markets being disposed off in a poorer country. No sir, these are as cutting edge as anything you'll see anywhere else in the world. And, they a fully legit, with the full gamut of service support and warranties at their disposal.
I really wish I could say the same of Indian roads. Don't get me wrong. The Indian road network is far better than it has ever been. There are indeed roads in the southern parts of the country where you can see speed limits of 120 km/h … not something that our fathers would have ever imagined. For them, 80-90 km/h was a lot of road travelling by every hour. There are no less than three official expressways around the country and several thousand kilometres of multi-lane highways on which you can really experience the potential of these superbikes.
Unfortunately, out of those three expressways, two (the Mumbai-Pune Expressway and the Ahmedabad-Vadodara Expressway to be precise) won't even allow a two-wheeler to be ridden. The only expressway where you can take your bike and wring the throttle open with gay abandon is the Yamuna Expressway. But then it is somewhat logistically difficult if you wanted to do that every weekend but lived somewhere in Navsari in Gujarat, isn't it? Then there are the highways. They are fabulous for the most part but I really wish I could say the same of the traffic that usually inhabits Indian highways, which can range from a hay laden tractor to an overloaded truck to a bullock cart to strange motorised contraptions that are a cross between a scooter and a van (the classic Indian jugaad).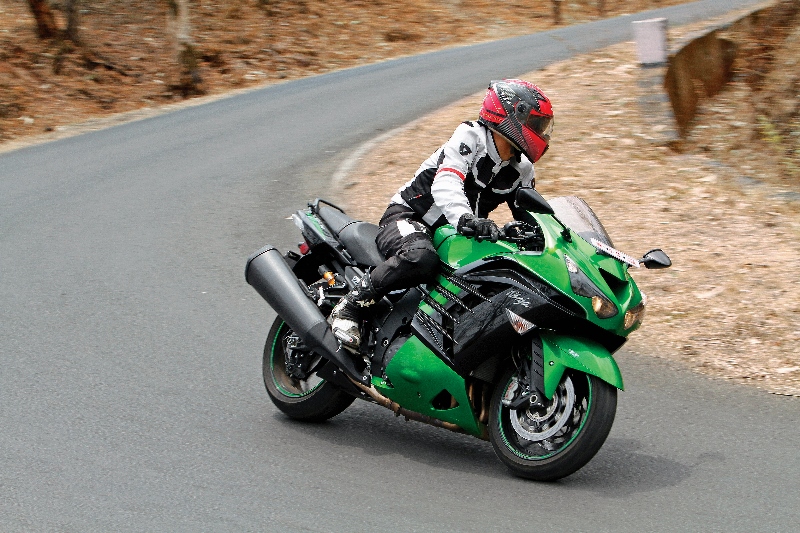 The odds of finding a slow moving vehicle cut across your path at the exact moment when your brain decides to crack the throttle wide open are as good as finding a 'try again' card at your average lucky draw. It's inevitable. It isn't as if people don't claim to have explored the limits of a super machine like the ZX-14R but then the opportunities that present themselves are indeed very few and very far between. Mostly we find ourselves cruising at a very comfortable 140-150 km/h, which on a motorcycle like the ZX-14R is not even scratching the surface.
Then of course there are the inner roads, the ones that you will need to take to get to your resort. You turn off the highway and you find your bike heating up in geometric progression roasting your thighs as your body temp tries to match pace. You see the average state highway or any of the arterial roads are rarely wider than narrow dual carriages. More often than not there are no lane markings (not that such squiggly lines on the road matter to the Indian road user). There's debris on the sides of the road making them slippery and hence avoidable. Then there are the speed-breakers.
India really is an incredible nation. Where everyone around the world is thinking up ways and means to get to a place faster, we have decided to buck the trend and instead are busy slowing things down. So, where yesterday there was a nice piece of tarmac that led into a fast flowing corner, is saddled with a mountain-esque speed-breakers (or, bike breaker if you please). India is the only country where I have seen 'Speed thrills but kills' signage strewn liberally around highways. It's almost as if the whole populace is out to damn you if you so much as touch 100 km/h.
So what's the point? It's quite simple really. Bikes have become faster, some mind bendingly so. The roads unfortunately have not. So if you're out on that fancy 'Blade of yours or that brand new Road King or the Tiger Explorer or the Scrambler Ducati or, as in my case that day, the Kawasaki Ninja ZX-14R, stay alert and try not to be throttle happy. The road you're on isn't ready. Not yet.