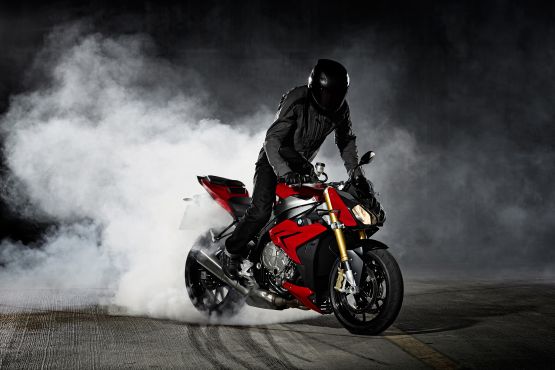 Chassis performance was equally impressive. In the Road mode the BMW gave an improbably plush ride through Palma's streets, gliding over most bumps, even though it has only 120 mm of rear wheel travel, 10 mm less than the RR. The Road mode is fine even for hard riding, but the better option was to press the button to select Dynamic, which firmed up the suspension, reduced the pitching under braking and acceleration, and gave a superbly taut and controlled ride. Both ends can also be fine-tuned through soft, normal and hard settings via a button on the left bar.
On those twisty roads near the coast the Sport was superbly agile, the wide bars allowing it to be flicked into turns with minimal effort. If the road tightened the bike required barely a nudge to take a different line, its suspension giving good feedback, the sticky Pirelli Diablo Rosso Corsa tyres (the rear a 190-section) sticking hard, and the generous ground clearance ensuring that only the occasional boot-tip touched the ground. Yet stability at high speed and under acceleration was also very good, helped by the standard fitment steering damper.
Predictably, the Brembo radial front callipers gave fierce stopping power, adding some rear brake too because it's a linked system, fine-tuned to work differently in the various riding modes. The ABS operation also varies with mode, notably in Dynamic Pro, the most aggressive setting, when the rear disc's anti-lock is disabled to allow skids.
That's normally fine, although I actually crashed the bike after locking the front wheel under braking on a damp patch exiting a tunnel while in the Dynamic Pro mode, which is intended for dry surfaces. Although that wasn't an ideal situation for the ABS in that mode, I don't understand why the crash occurred. It's slightly worrying but wouldn't put me off buying the bike.