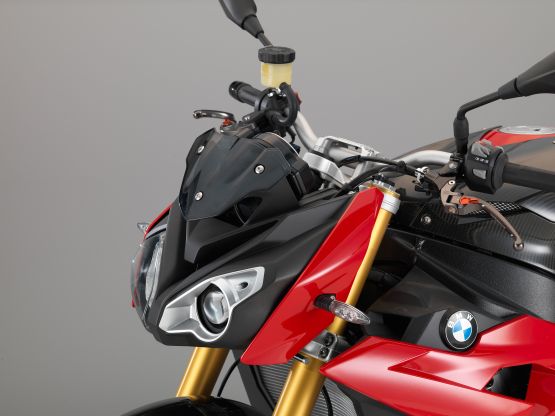 Like other super-nakeds the S1000R isn't built primarily for practicality, but it's more versatile than many. The engine is respectably fuel-efficient and good for 7 litres/100 km or better, meaning most owners should get close to 250 km from the 17.5-litre tank. The plush suspension made the seat seem reasonably comfortable. There's not much room for a pillion, but it's more generous than the RR's equivalent.
One rider complained that the clutch lever is not span-adjustable and its action was quite heavy, but I hadn't noticed. The digital instrument panel is comprehensive, with info on fuel consumption and range. You can toggle the information from the bars, which is good; shame the indicators don't self-cancel. The test bike's heated grips were welcome on a cold morning even in Majorca, and there are many other options and accessories to choose from.
If you want the extra riding modes, DTC traction control and semi-active suspension you can only get them by pre-ordering (whether individually or combined in the Sport model). Other accessories include tuning parts developed for the HP4 such as carbon-fibre mudguards and covers, folding levers, rearset footrests and engine crash pads. There's an Akrapovic slip-on silencer, or a titanium exhaust system that saves 4.5 kg. Forged wheels developed for the HP4 save 2.5 kg of unsprung weight.