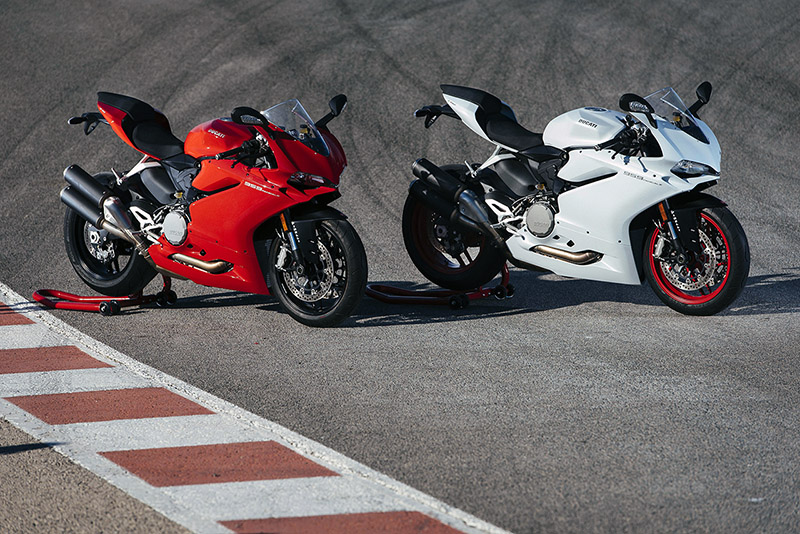 The changes necessary for Euro 4 were even more important, because in many markets the bike couldn't have been sold without them. Cylinder-head and crankcase covers gain sound-deadening material, and the timing chain, gears and guides have been redesigned to reduce noise. Then there's that new twin-pipe exhaust, which is not something Ducati wanted to add for aesthetic or performance reasons (959s sold in the US, Australia and some other markets retain the compact 899 pipe). Despite that the Panigale remains a stunningly good-looking bike, whether in original black-silencer form or when fitted with the titanium Akrapovic slip-on that is a street-legal accessory.
Chassis changes are less extensive, the 959 keeping its predecessor's monocoque aluminium frame layout and blend of 43-mm Showa Big Piston forks and Sachs shock, but joining the 1299 with a four-mm lower swing-arm pivot for improved traction. Along with the slightly wider, more protective fairing from the bigger Panigale it also gets the machined aluminium foot-pegs that were introduced with the limited-edition Superleggera.
Its electronics package is similar to that of the 899, which means eight-position traction control, and three riding modes with ABS settings automatically adjusted to suit. For our first Valencia session Ducati requested that we used Sport, the middle setting (which would, perhaps, be more accurately named Street). This was possibly a mistake because, after the 959 had fired up with a considerably muted but still recognisably V-twin note through those shotgun pipes, it attacked the track feeling controllable and pretty quick but slightly flat.
It accelerated out of the bends with a bit less punch than I'd expected, perhaps partly because it was being held back by the traction control (whose default setting is high in the Sport mode), and also steered a bit less sweetly than I'd hoped, tending to miss the apexes and run slightly wide. Doubtless that rider-friendly Sport setting would have been ideal if we'd headed out on to the A-3 autopista towards Madrid, where the Ducati's stability would also have been welcome, but on the track it just seemed slightly toothless and imprecise.
Thankfully, significant improvements were only a few minor adjustments away. For the remaining sessions we used the sharper Race mode. And mechanic Gabriele added a turn of shock preload to suit my larger-than-average height and weight, as well as fitting a fresh rear Pirelli Supercorsa SC2 (Diablo Rosso Corsas come as standard) to replace the one that had shown signs of wear before my first session.