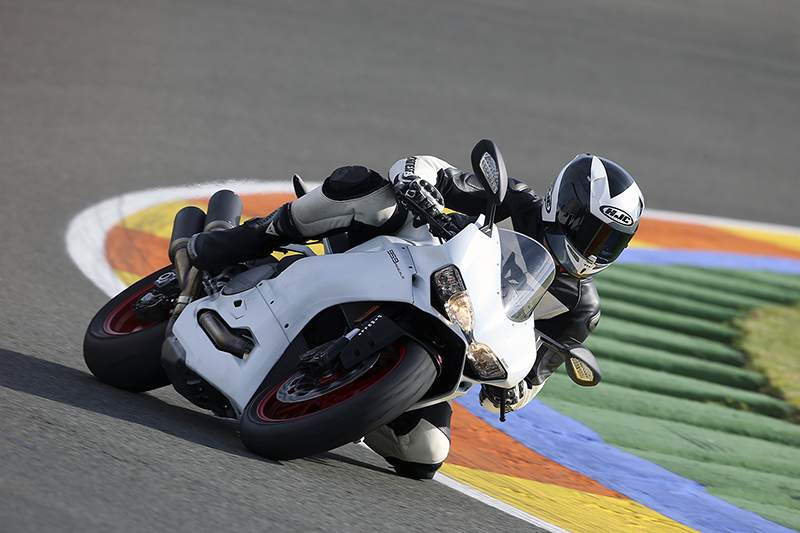 We rode the Ducati 959 Panigale at Valencia recently and came back quite pleased with the outing
Story: Roland Brown
The last few laps said most about the 959 Panigale. After four sessions of the compact Valencia track on a hot day there are plenty of bikes that would have been starting to feel like hard work, possibly resulting in a few mistakes and that last outing seeming uncomfortably long.
But when the chequered flag was waved for the last time, I realised that I would happily have carried on circulating for as long as there was petrol in the tank. And that although earlier in the day the 959 had seemed quick, capable but just a little lacking in excitement — at least in comparison with the last Ducati I rode on track, the awesome 1299 Panigale to which it bears a strong resemblance — this small-bore sibling has plenty of more subtle charms of its own.
Of course, it's unfair to compare Ducati's latest super-middleweight with the firm's open-class weapon, especially when it has had to put on some weight to get through Euro 4 regulations. The 959's new twin-silencer exhaust and other emission-related additions mean that at 200 kg wet it's seven kilos heavier than its predecessor, the 899 Panigale (and over 20 kg up on the 1299).
But that's the sad reality in 2016 for all manufacturers. In recent years we've become used to Ducati, in particular, frequently boosting engine performance and shedding weight. Suddenly Euro 4 means the Bolognese engineers' main goals were reducing noise, and minimising the weight gain caused by bigger silencers and other unavoidable sound-reducing features.
Those extra seven kilos largely negate the performance increase from the larger, 955-cc V-twin engine, whose peak output of 157 PS at 10,500 RPM represents a gain of 9 PS over the 899. But Ducati's aim with this Panigale is not pure performance. Like the 899 it has been created to attract riders from other brands and types of bike by being rider-friendly and at home on both road and track.
The new Superquadro eight-valve desmo engine gets its 955-cc capacity via a longer stroke of 60.8 mm (same as the 1299's) in combination with an unchanged bore of 100 mm. Additional shower-head fuel injectors, a higher-flow air-filter and larger, 60-mm diameter exhausts also contribute to a substantial torque increase everywhere above 5,000 RPM, with an eight per cent gain at the max of 107 Nm at 9,000 RPM.