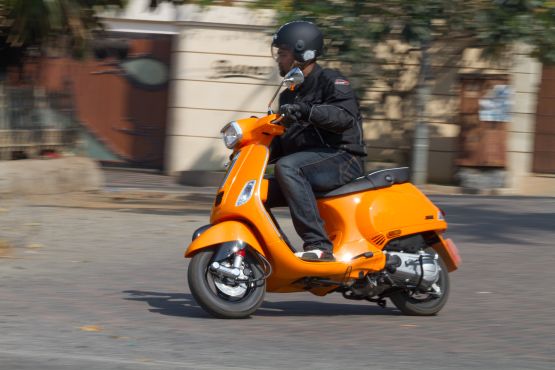 The bike we received was a bright shade of what seems like traditional Italian 'arancio'. The hot orange was definitely turning every head on the road as it rolled in style, down the posh Bandstand promenade in Mumbai. Adding to the drama was a young, dynamic individual driving a German luxury SUV whose head-turn was accompanied by the lowering of sunglasses. I was a bit startled at first, but then realised it was the Vespa S getting all of the attention. Such was its road presence and distinct identity. And it's not looks alone either.
The 125-cc, three-valve single continues to do duty with its 10 PS and 10.6 Nm. The performance characteristics are akin to those of the VX; not surprising, since it borrows a lot of mechanicals from it, including the front disc brake and tubeless tyres. The ride is as good as that on any Vespa and the red-spring suspension was more than capable of handling the vaguely cobbled internal roads. The seat with contrast piping is quite a design touch, but the absence of a rear grab-rail was a ponder. Vespa offer it as an accessory, though.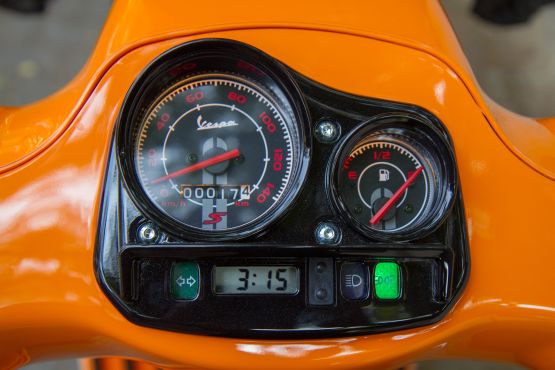 At Rs 82,000 (OTR, Pune), the Vespa S is quite expensive. Vespa claim a fuel efficiency figure of over 60 km to the litre, but in the real world, you will get about 80 per cent of that figure. Either way, you buy the S for the style, for how it makes you feel: whoever does, will appreciate everything about it.