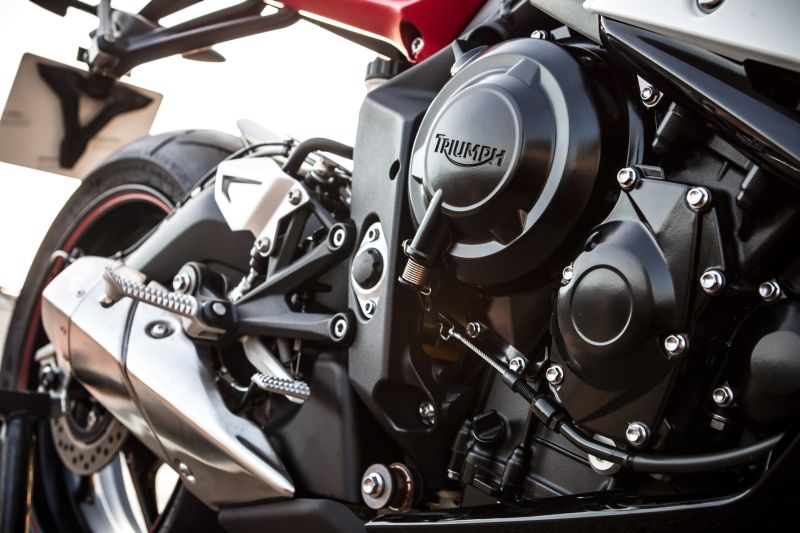 Daytona 675R Tech
Triumph had to design an all-new engine for the Daytona, because, to generate the extra power, they required higher revs. That, in turn, necessitated a shorter stroke, to prevent excessive piston speed and the existing cylinders couldn't be bored out any further. The new unit has a separate cylinder block and uses wet liners with Nikasil coated bores for reduced friction.
As well as having a two mm larger, 76-mm bore, the engine has higher compression ratio (12.65 to 13:1) and revs to 14,400 RPM instead of 13,900 RPM. Other modifications include improved piston cooling via directed spray jets and a new aluminium heat exchanger. Top-end changes involve new cams and valves. The inlets are now made from titanium instead of steel and remain 30.5 mm in diameter, although they are re-shaped to improve flow and reduce weight. Exhaust valve diameter is reduced from 25.5 to 24.2 mm, which made them lighter, allowing lift to be increased.
Other lightened internals include the crankshaft and alternator rotor. The crankcases now incorporate baffles to prevent oil surge under hard braking, plus scrapers to remove oil from the crankshaft webs. The gearbox is revised with new first and second gears, plus a modification to the selector fork shafts, intended to reduce friction and give a lighter action. Final drive was shortened with a 15- instead of 16-tooth gearbox sprocket.
The tubular aluminium frame, shared with the Street Triple, has a high pressure cast aluminium rear subframe. As before, its front section incorporates a central air intake that routes air around the steering head and which has been enlarged and smoothed to improve flow. There's a new swing-arm, with an asymmetric design to clear the low exhaust silencer. It's 15 mm shorter than the old one, combining with the front end changes to reduce wheelbase by 20 mm. As before, its pivot can be adjusted, though only serious racers are likely to bother.
The new 675 (both versions) is one kg lighter than its predecessor, at 184 kg wet, and puts slightly more weight over the front wheel: from 51.8 to 52.9 per cent. Its new frame, shared with the latest Street Triple, has slightly racier steering geometry, with 23 degrees of rake and 87.7 mm of trail, against the old model's 23.9 degrees and 89.1 mm.
Other chassis changes include the new Öhlins NIX30 forks and TTX36 shock (the standard 675 uses multi-adjustable KYB parts), plus new cast aluminium wheels, the rear of which saves a further 0.5 kg. The non-adjustable steering damper fitted to both bikes is also made by KYB (formerly Kayaba). Both standard and R models wear the latest version of Pirelli Diablo Supercorsa SP tyres.
The brake system is upgraded with slightly larger diameter, 310-mm (from 308-mm) discs that are also half a millimetre thicker, at 4.5 mm. Both the standard model's Nissin Monobloc and the 675R's Brembo Monobloc callipers are plumbed with braided hose. The new, switchable ABS system fitted to the 675R is an option on the standard model and weighs just 1.5 kg. Colours are white and black for the R; either red/black, black/grey or white/blue for the standard model.