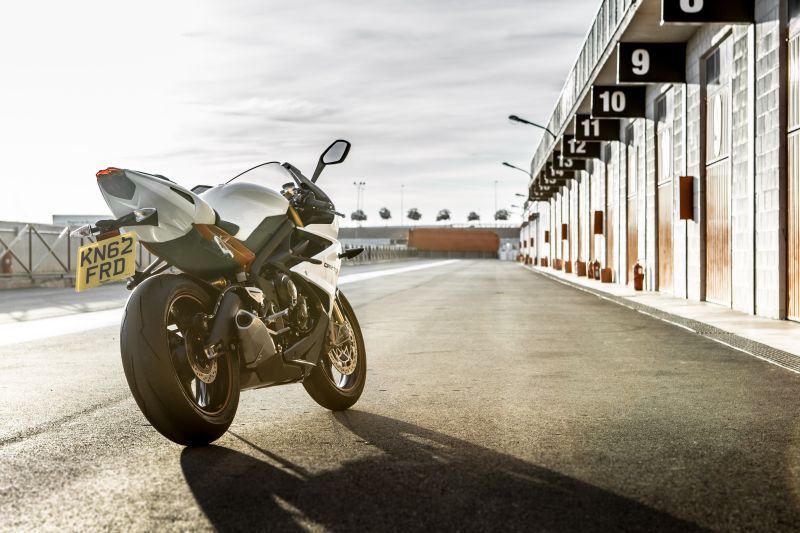 David Lopez, Triumph Development Engineer And Test Rider:
"When we were developing the original Daytona 675 there was a market trend to have the silencer under the seat. We designed the bike like this because the market asked for it, but we knew it was a handicap, because it meant we had to compromise other areas of the bike to get the right weight distribution and feeling. Basically, we had to move the engine as far forward as we could, resulting in the fork offset being more than we wanted, so we had enough clearance for the radiator.
"So in 2009 when Marketing agreed the best way forward was to quit the under-seat exhaust, we knew what we had to do. When we moved the [exhaust] weight from under the seat to under the engine, we could move the engine back to where we wanted it, allowing us to bring the front wheel five mm closer to the bike. But with those changes we had too much weight on the front, so we shortened the swing-arm by 15 mm. Now the wheelbase is 20 mm shorter, but because the centre of gravity is much lower, you still don't have a tendency to wheelie or stoppie.
"Suspension is significantly different, especially on the R version. Because of the re-positioning of the engine we could run a 120-mm [instead of 110-mm] stroke without the clearance issues we had on the old bike. This was welcomed by racers, who always asked for more travel. The forks are different; the longer stroke means we can run different characteristics, with the same spring but different damping. The rear spring is lighter, because it doesn't have so much weight to support."
Story: Roland Brown
Photography: Alessio Barbanti and Matteo Cavadini