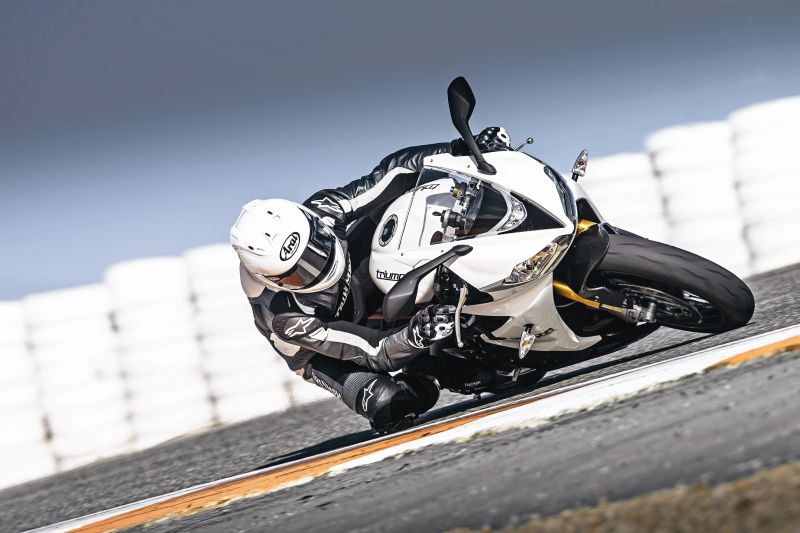 At Cartagena the only thing better than blasting round on the standard 675R was riding the bikes fitted with Triumph's accessory Arrow can, which added a gloriously loud and tuneful note plus a notable extra snap to the acceleration. It also saves almost four kg over the standard stainless can. And even with the standard can fitted it was the new exhaust, in conjunction with the chassis changes it allowed, that did most to make this Daytona feel so good.
The previous 675 handled extremely well, as proved by all those comparison test wins, not to mention race victories, including Glenn Richards' 2012 British Supersport title. This model is one kg lighter (at 184 kg wet), has a 20 mm shorter wheelbase, puts more weight over its front wheel and has a racier steering geometry. That gave not only slightly sharper, more neutral steering, but also very impressive stability. After carving through Cartagena's tight first section with such ease, the Triumph stayed very stable while cranked over and hard on the gas at higher speed later in the lap.
Its suspension seemed subtly better too, at least up front. I enjoyed the previous 675R on its launch in Portimao a year ago, but found its Öhlins equipped front end slightly harsh. No such worries with this bike's NIX30 units, which have revised damping and an extra 10 mm of travel (at 120 mm). With the front end on Triumph's recommended track setting the 675R gave excellent feedback even through the bumpy penultimate left-hand bend. The rear TTX36 unit was superbly well controlled, too, even when the sticky rear Supercorsa SP was being given a hard workout on exiting the turns.
The Triumph was impressive under braking, too, not least in the way the Circuit ABS allowed the rear wheel to lift slightly when I grabbed a handful of Brembo radial Monoblocs at the end of the pit straight. There was certainly no shortage of stopping power and I found the lever feel fine too. Perhaps, a non-ABS system would allow fractionally more direct control for expert riders. But for most, the ability to brake super-hard without worrying about locking up the front would be a big bonus.
That Circuit ABS system is typical of the 675R in the way that it helps the rider maximise the bike's potential. There are plenty of more powerful and faster machines, but the Daytona is so responsive and non-intimidating that for many riders I'd guess it would be just as quick as an open-class bike as well as more fun to ride. Ridden by Triumph's rapid test rider/engineer David Lopez, both 675 models lap the tight Calafat circuit roughly a second quicker than their predecessors, with the R model 0.7 seconds up on the standard one. In other words, the new standard Daytona is slightly quicker than the old 675R.
Some updates are intended to improve life at a less hectic pace. The clip-ons are five mm higher for a slightly more comfortable riding position. As before there's a reasonable amount of leg-room (even for me at 1 m 93 cm) although it's a shame the foot-rests still can't be adjusted. The quick-shifter has been revised to work more smoothly at lower revs. And the updated instrument panel now includes a fuel gauge, though you still need to take a hand off the bars to toggle through the settings.
Despite those civilising touches the Daytona 675R is still very much a super-sports machine, with the focus and racy character of that breed. But this new model is more refined and rider-friendly as well as subtly quicker. Triumph didn't really need to update it so comprehensively, so credit to them for doing so anyway. The result is an outstanding bike that should be just as good to ride on the road as on the track.