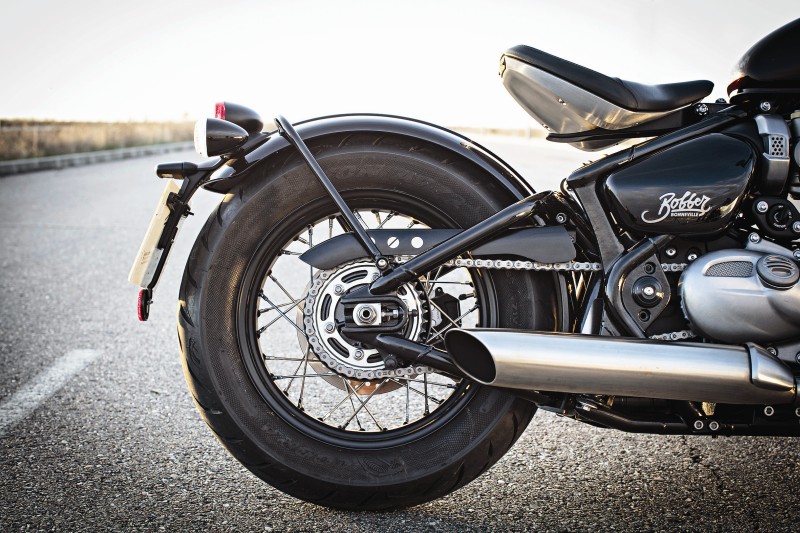 If the performance of the T120-based engine was predictable, that of the unique chassis was much less so. Making the Bobber handle well was always likely to be difficult, given that it looks like an ancient hardtail, and combines a fairly slim, 19-inch front tyre with a wider 150-section, 16-inch rear one. It's not especially light at 228 kg dry (four kilos heavier than the T120), and has a long, 1,510-millimetre wheelbase (up by 65 mm).
Comfort also looked likely to be in short supply, given that the shapely single saddle is as thinly padded as it's low. And although the Bobber has suspension at both ends, it doesn't have much travel: 90 mm front and 77 mm rear, compared to the T120's 120 mm at each end. If ever a modern Triumph looked designed for short trips and straight lines, it's this one.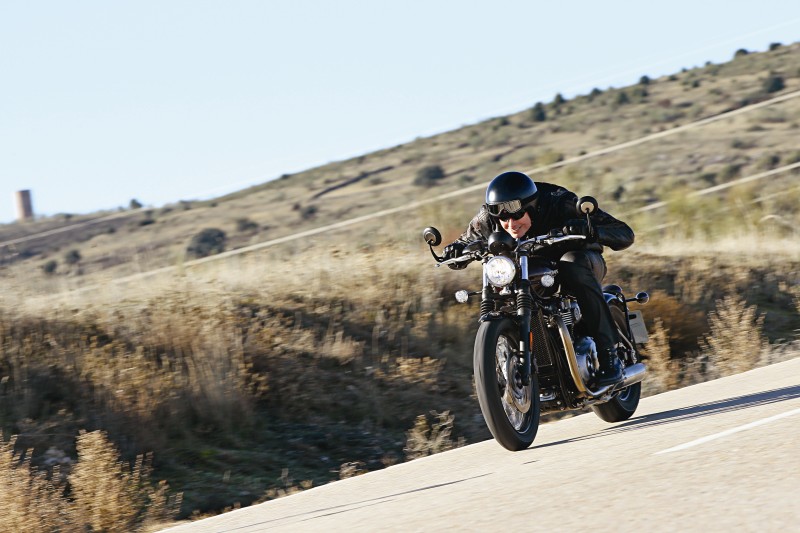 Which is why it was such a pleasant surprise to discover that the Bobber not only handled remarkably well, it also exceeded comfort expectations by a wide margin. Part of the reason is that despite the custom look its steering geometry is conventional, with forks held at a 25.8-degree angle that is almost identical to the T120's. The KYB (formerly Kayaba) units at each end are stiffer, too, so the Bobber feels nicely taut as well as fairly quick-steering.
But well-chosen damping rates meant the Triumph didn't feel harsh on the Madrid streets. There its wide bars, low centre of gravity and generous steering lock helped it cut through the traffic with an effortlessly well-balanced feel. The only aspect of the chassis that disappointed was the front brake, which relies on a single 310-mm disc and twin-pot Nissin calliper, where the T120 has two identical items.
There was an acceptable amount of stopping power when I squeezed hard, but more bite from the front would have been nice, and useful in an emergency. Shame the built-in (and worthwhile, though hard to trigger) ABS system means that a second disc can't easily be added, as it could to the Bonneville in the 1970s. At least the Bobber slowed fairly hard with assistance from its rear disc, which I found myself using more than normal.
On the fog-shrouded motorway heading out of Madrid the Triumph was very stable and as tolerable as any naked bike. The seat gave plenty of legroom and distributed my body weight well when in its furthest forward position; it can also be slid backwards (after loosening a few bolts) for a more laid-back look. Foot-rests are sufficiently rear-set to take some weight from your bum. Those heated grips were immediately welcome, though I didn't need the cruise control that is another option.
Thankfully, the sun burst through the clouds almost immediately after we'd turned off on to a series of twisty, mostly well-surfaced mountain roads where the Bobber was far more at home than I'd have imagined. Its steering was as accurate as it had been in the city, its suspension retained its taut and well-controlled feel, and the Triumph was enjoyably easy to chuck around at an entertaining pace.
In grippier turns it was important to take care with line and lean angle, because the foot-rests scraped before the capable Avon Cobra tyres approached the limits of their grip. But ground clearance was fine for a bike like this, and the Bobber's agile handling helped make it into a very passable all-round roadster, at least for those who don't need to carry a passenger or much luggage. The bike is not designed for a pillion pad, and the accessory leather panniers look cool but not particularly large.
Inevitably, that shapely but tiny tank has its limitations, too. My average of 6.0 litres/100 km — displayed on the digital panel that can also show revs and more by pressing the "i" button on the left bar — brought realistic range to well below 150 km. That's far short of the T120, whose 14.5-litre tank would allow half as much distance again. Triumph claim 4.1 litres/100 km (24.4 km/l) and a range of 222 km for the Bobber, which would require riding cautiously and reaching the service station on fumes.
But the Bobber doesn't pretend to be especially practical. It promises to be stylish and fun, and delivers in both respects, working far better than such a radical looking machine has a right to. It's slightly more expensive than the T120, not to mention several rival firms' bobbers, but those who've put down deposits will not be disappointed. As good as the Bonneville Bobber is to look at, it's even better to ride.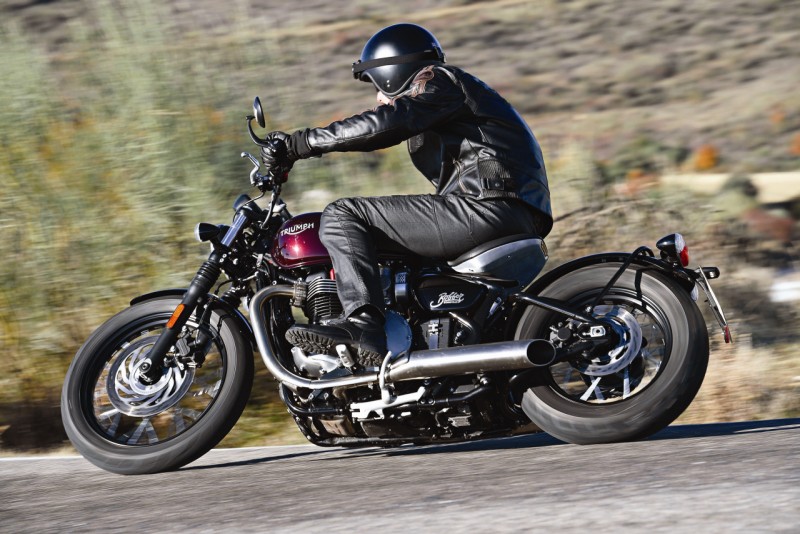 The Triumph Bonneville Bobber has been launched on Indian roads priced at Rs 9.09 lakh (ex-showroom Delhi).