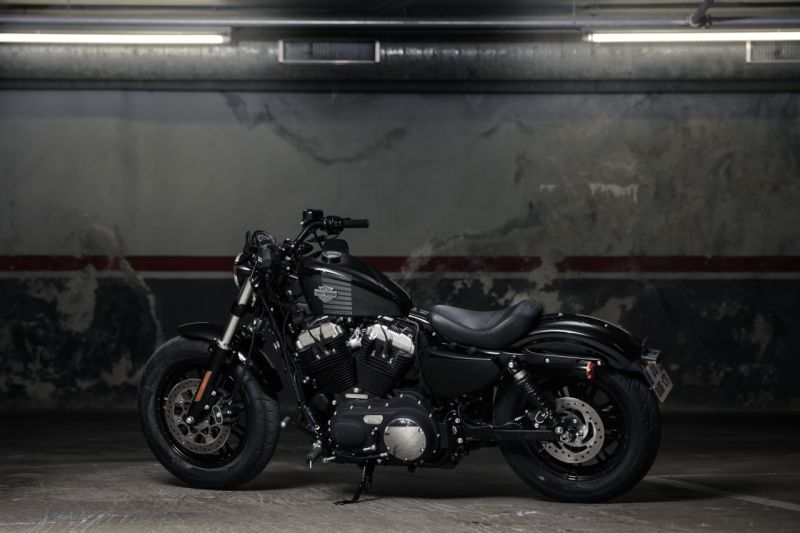 We take Harley-Davidson's burly Forty-Eight out for a spin at the MY2016 launch in Tokyo. Here's how the bike held up
The Forty-Eight is a bare-knuckle, bad-to-the-bone Harley-Davidson that looks like it is ready to steam-roll everything in its path. And with the bike rocking those fat (and phat) 16-inch wheels wrapped up in 130/90 B16 kicks up front it might just do that. Because that's the first thing you notice about the Forty-Eight, it's those massive tyres, particularly the front one, and then you see the gorgeous options of flame or striped-style decals running down the side of that eye-catching 7.9-litre peanut tank.
There's also the inverted cafe-raceresque mirrors and distinctively shiny exhaust. The nine-spoke wheels are brand new, and are now wrought in cast-aluminium in an effort to shed weight. Talking about all things new, the real revelation is in the shocks. The bike now sports 43-mm telescopic front forks, new aluminium triple clamps matched with a new aluminium fork-brace means the rake is that much tighter, providing for a sharper turning radius. The seat too is new and I can attest to its comfort first hand. The twin exhausts run parallel down the side of the bike and have been embellished, really making the bike pop when contrasted with the blacked-out engine behind them. The riding position is still extremely forward-biased with a handle you really need to stretch to reach and forward placed footpegs too. It takes some getting used to, that's for sure.
Fire up the Forty-Eight and the sound emitting from the exhaust is mean, perfectly accentuating its menacing looks. The suspension is indeed quite comfortable, and while you don't expect to lean the Forty-Eight into corners it holds its own as well as any muscle-styled cruiser of this distinctive mould would be expected to, although I would be remiss not to add that the turning radius could still do with some opening up because it is still a little difficult to make a U-turn on this bike.
The engine on the Forty-Eight is an air-cooled 1202-cc mill known to put out 67 PS and 96 Nm of torque. You can really feel all that grunt kick in when you twist the throttle, and the bike is an absolute blast to ride (at least in a straight line), further attesting to its muscle-bike credentials. The bike costs Rs 9.12 lakh ex-showroom, Delhi.
This was but a microcosm of my views on this bike, you can read a more detailed report in the November Issue of Bike India, and keep an eye out for my first impression of the Iron 883 too, and if you haven't yet, check out my thoughts on the new Street 750 as well.