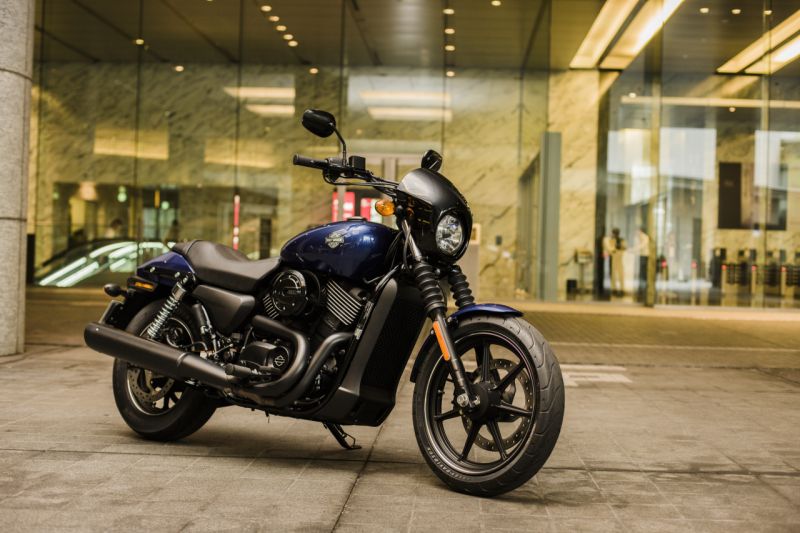 Bike India went to what turned out to be a very wet Tokyo to check out Harley's new 2016 line-up.Here's what we gleaned from the first bike of the three we rode there – the Street 750

The Street 750 is Harley-Davidson's most economical offering on the Indian market, and opinion has been divided on this one ever since it hit our shores. The true-blue bar-and-shielder pans it for not having that traditional H-D ethos, while a large swathe of the Indian motoring fraternity seems to think it is a superlative motorcycle. The fact that it took home top prize in the IMOTY and Bike India's very own Bike of the Year awards says a lot doesn't it?
Anyway, onto the model year 2016 Street 750, a bike that was launched under Harley's 'Dark Custom' moniker. Visually, the bike is near identical to its predecessor, although there are new colours – a vivid blue and a brighter shade of red on show. You may also notice that the bike's wiring is a little more subtle than on the previous iteration. The obtrusive nuts on the swing-arm and axle while still exactly where we last saw them, are blacked-out to match the paint, and as such a lot less obtrusive.
Slip into the saddle and you feel that same familiar comfort of an upright riding positioned, very comfortably placed foot-pegs, and a handlebar that is nice and wide and slightly beefed-up from the Street's forerunner, but not too wide, which makes for some comfortable steering motion in tight city streets. The engine is still exactly the same refined, liquid-cooled 749-cc V-twin producing 47.5 PS and 60 Nm of torque. The six-speed gearbox too is retained, and the suspension too is exactly the same, and why would they change it? The gearbox and ride quality on the Street 750 were, and still are some of its strongest plus-points. It handles as well around corners too, so no changes there either.
What has changed on this Street however is the braking. New, bigger rotors, callipers and a new master cylinder mean Harley have addressed this particular shortcoming on the Street 750, and the brakes do feel sharper and bitier than those on the bike's previous iteration though. Still no ABS though, we'll have to wait till at least 2017 for that bit of kit then. The kicks the Streets we rode were running Michelins rather than the MRF Nylogrip Zappers they run here, Michelins that will stay back in Japan, because H-D India will continue their association with MRF. The Street 750 remains frugally priced at Rs 4.52 lakh (ex-showroom, Delhi)
That's all I have for you today, you'll have to tune in to the November issue of Bike India for the full-monty on this and all the other Harleys we rode in Japan, and keep an eye out on this space too, because we'll publish first impressions of the other two bikes we rode in Tokyo on here very soon.