On that first morning's ride through LA, I found myself on the up-spec XV950R, which was fun to aim through the traffic. Throttle response was crisp; the abundant low-rev grunt helped make for a relaxing ride. The Yamaha is fairly light for a cruiser, at around 250 kg with fuel, and its wide bars and low centre of gravity meant it was reasonably easy to manoeuvre. The airbox sits inside your right knee in traditional Harley fashion, but that didn't cause any discomfort.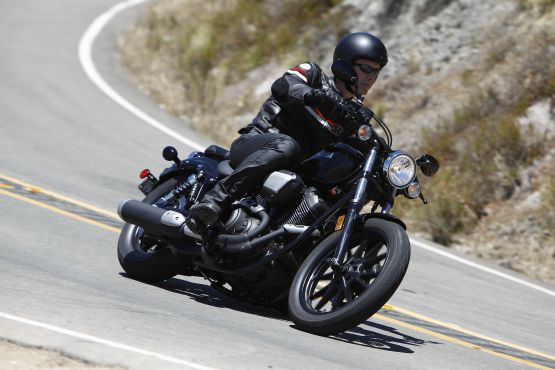 When the road opened up, the Yam rumbled along contentedly at a gentle 100 km/h cruising pace, keeping plenty in hand for occasional overtaking without the need to tread down through the five-speed box. The 60-degree V-twin is solidly mounted and has no balancer shaft. Yamaha's engineers have done their sums right, because there was just enough vibration to add some character, but not so much that it loosened any fillings.
There's enough power for a bit more speed, too, as we found the next morning when heading north on the PCH. After a lazy coffee-and-milkshake stop at the aptly named Paradise Cove Beach Café, we headed inland along the Mulholland Highway, which twists and climbs through well-surfaced roads towards the Rock Store. Here there was occasionally room to get the XV thundering towards its top speed of about 175 km/h, though the wind-blown riding position and slightly frenetic high-rev feel meant that I rarely bothered.
Much of the time I had little idea of what speed the Yamaha was travelling at, because its digital speedo is annoyingly difficult to read in direct sunlight. There's very little other info available from the console, which incorporates just a handful of warning lights. At least, the rider's aids include self-cancelling indicators and mirrors that were wide and clear enough to be useful.
In other respects the Yam is reasonably practical. The tank is small at 12 litres, but that should be enough for a 160 km-plus range that is arguably enough for a bike like this. Despite being tall I found the riding position comfortable, with less of the normal cruiser slouch than normal, although one average height rider thought the footrests were too far back. The rider's saddle is quite well-padded, although the pillion pad looked far from luxurious.
Those canyon roads gave the Yamaha's chassis a good test, which it passed despite literally scraping through at times. One or two riders thought the ground clearance marginal and it's true that the footrests and even some solid bits touch down long before the Bridgestones run out of grip. But the XV is no worse in that respect than most cruisers and I doubt many people who buy this bike will complain —or that they'd prefer higher footrests, with resultant reduced legroom unless seat height was also increased.
The Yamaha is certainly more agile than most cruisers, partly due to its geometry. It has 29 degrees of rake against the Midnight Star's 32 degrees; its 1,570-mm wheelbase is 115mm shorter. I was pleasantly surprised to find the R-model's ride quality pretty good, despite its having only 70mm of travel. The standard model felt slightly harsh by comparison and lacks the R's potential for compression damping adjustment.