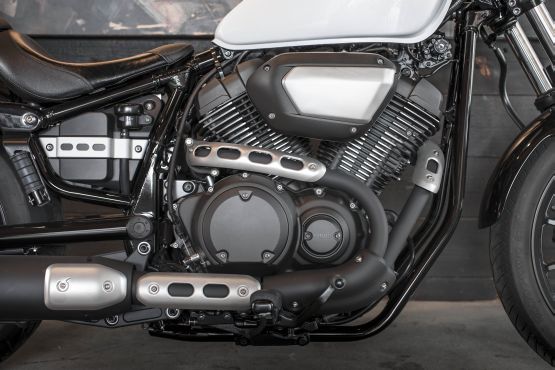 The SOHC, 60-degree V-twin is shared by both XV models and is mechanically unchanged from Midnight Star spec. Intake and exhaust mods combine to reduce the peak power by a couple of horsepower, to 51 PS at 5,500 RPM, while increasing the maximum torque figure by a similarly small amount.
The steel twin-downtube frame has no rear sub-frame. Instead, the rear mudguard is a self-supporting structure that holds the single saddle and removable pillion pad. It's a simple chassis with non-adjustable forks, a narrow 19-inch front wheel, twin rear shocks and a single wavy disc at each end.
From the rider's saddle — which is set low, at 690 mm — the minimalist view is of a slim peanut tank and a simple, round speedo ahead of the fuel cap. The black, slightly raised one-piece handlebar sits you pretty much upright. Feet are fairly rearset by cruiser standards and rest on simple pegs rather than the Midnight Star's footboards.
It's all deliberately down-to-earth and the air-cooled engine fits that approach well. It fires up with a mechanical whirring and a rumbling through the single silencer, showing notably more character than a typical Japanese V-twin. That 51 PS output means it's far from the most powerful of litre-class motors, but it is one of the most flexible, with its healthy maximum of 80 Nm of torque being produced at just 3,000 RPM.